20 bike hangars could be installed across the borough
Release Date: 12 March 2020
The Council has unveiled a list of first round of 20 residential streets across Richmond which could soon have bike hangars.
Richmond had its first Bikehangar installed on St. Georges Road in Richmond two years ago, and it has proved to be a popular way to store cycles outside of the home. The hanger is a secure solution to long-term cycle parking and an effective way to protect bikes from tough weather conditions and vandalism.
Last year, the Council asked residents to apply for bike hangars to be installed in their street. An initial list of 20 proposed hangers has been drawn up following requests from local residents and will now be the subject of a final round of consultation. A consultation on a further 20 will be held later this spring.
The Council is therefore asking local people for any final comments on the chosen locations - via an online survey which will be registering comments until 8 April. Residents living near to the proposed locations will shortly be receiving letters inviting them to take part in the consultation.
The proposed locations are as follows:
West Twickenham - Camac Road
Teddington - Cambridge Road, Springfield Road, Walpole Road
Mortlake and Barnes - Charles Street, Cowley Road
South Twickenham - Edwin Road (Hamilton Road), Lauren Avenue, Talbot Road
Fullwell and Hampton Hill - Fullwell Road
St Margarets and North Twickenham - Godstone Road (Winchester Road), Hartington Road
Twickenham Riverside - St Margarets Road
South Richmond - Kew Road, Onslow Avenue, The Green
Barnes - Lyric Road, Merthyr Terrace
Hampton Wick - Normansfield Avenue
North Richmond - Townshend Road
The hangars can safely and securely store up to six bikes and are accessed by people who have signed up to the scheme, paid a membership fee and been given a key.
Cllr Alexander Ehmann, Chair of the Environment, Sustainability, Culture and Sport Committee, said:
"We want to make it as easy as possible for people to cycle. Making it easier for local people to switch to two-wheeled transport is a key element of our commitment to tackling climate change. However, for many people the challenge of storage is a major hurdle to owning and freely using a bicycle.
"We have received many requests from residents who want bike hangars in their streets.
"Having analysed these requests and evaluated suitable locations close to where the demand exists, we have drawn up an initial list of 20 locations where we now plan to install hangars, subject to the current final consultation.
"Renting a space in a Bikehangar is the kerbside solution for those in flats or smaller properties where space can often be at a premium. I am delighted that we in a position to offer more locations across the borough and hope residents will take the opportunity to let us know where they want them."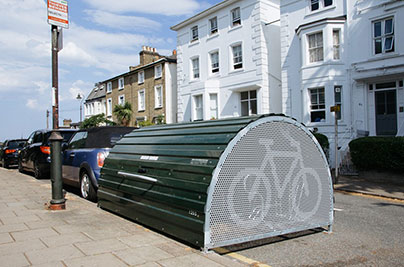 Notes for editors
If you are a journalist and would like further information about this press release, contact Elinor Firth on 020 8487 5159.
Reference: P081/20