Business, Bras and Brows
Release Date: 13 March 2020
Over 80 women discussed how to be a successful entrepreneur at the borough's first International Women's Day event, held earlier this week at PayPal in Richmond.
Organised by Richmond Council and opened by The Mayor of Richmond, Cllr Nancy Baldwin, the theme for the day was "Be Bold! Be Brave! Change the World!". A wide range of speakers and panellists then took the audience on an inspirational journey of lifetime challenges, setbacks and entrepreneurial successes.
Speakers included; Shavata Singh – the founder of Brow Expert, Helen Roberts co-founder of the business support programme StartUp Richmond, Jeanette Kruger – from ZABRA, a charity that aims to collect and donate underwear to women who need it, Bryony Farmer - Founder of Precious Stars (eco-friendly menstrual products), Naomi Greatorex - Creator of HeathProtection Solutions (Heath Insurance advisors) And Samanta Bullock a London Fashion Week Model.
Attendees included local residents, councillors and Sarah Olney MP. They took part in a workshop discussing the challenges they have faced and ideas to overcome them. The day concluded with a networking session, where the discussion about supporting each other, smashing the glass ceiling and changes at the 'grass root level' – stop stereotyping boys or girls – continued.
All the money raised from the ticket sales were donated to the Mayors charities: HomeStart and The Otakar Kraus Music Trust and ZABRA.
Attendees also donated a box full of their unwanted bras, which will be distributed overseas through the ZABRA network.
Cllr Nancy Baldwin said:
"What an inspirational event! We had an opportunity to hear from women who have had very different experiences on their entrepreneurial journey. Each of them have smashed barriers and overcome significant challenges to achieve success.
"This event was allowed us all to celebrate women in business and will hopefully inspire others to be brave and bold and start their own journey."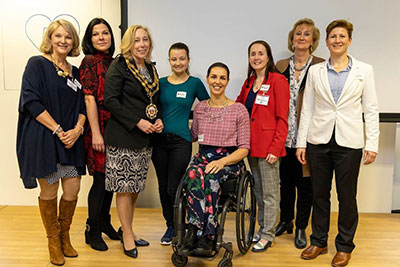 Notes for editors
If you are a journalist and would like further information about this press release, contact Elinor Firth on 020 8487 5159.
Reference: P083/20