Carlisle Park in Hampton is set to get a new outdoor fitness space
Release Date: 02 March 2020
Residents are being invited to share their views on proposed changes to the playground at Carlisle Park.
As part of the Council's continued commitment to improve our parks and open spaces, the proposal includes a new outdoor fitness space with gym equipment suitable for those with mobility issues as well as able-bodied users. Equipment may include a chest press, workout bench, pull up bars, a shoulder wheel, and more.
The new outdoor gym would be installed where the toddler play area is. The current toddler play equipment would be moved to the main play area, close to existing equipment aimed at children of a similar age.
You can view details of the consultation and have your say on the proposed changes. Please complete the online survey or request a paper copy by emailing consultation@richmond.gov.uk.
Cllr Martin Elengorn, Chair of the Environment and Sustainability Committee, said:
"We are always looking to improve our outdoor spaces to encourage as many people as possible to spend time outside and to enjoy the benefits of physical activity.
"It is hoped that by installing an outdoor gym, Carlisle Park will be used even more by the local community.
"We want to make sure that the changes to the park are the right ones so please have your say and fill out the survey. Thank you!"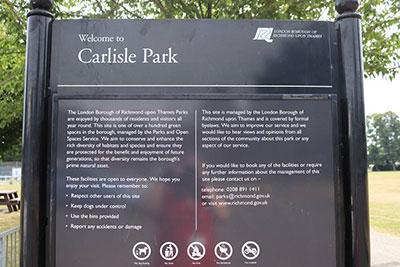 Notes for editors
If you are a journalist and would like further information about this press release, contact Fenna Maynard on 020 8487 5182.
Reference: 065/20