Deadline looms for help paying your fuel bill
Release Date: 09 March 2020
Residents who are struggling to pay their annual fuel bills are reminded to apply for a fuel grant before Friday 27 March 2020.
The Council can provide one-off grants of up to £85 per household to help those on a low income (including pensioners) pay their annual energy bill. This is to protect residents who are at risk from living in fuel poverty.
The closing date for applications is fast approaching and applications received after Friday 27 March 2020 will not be processed.
Cllr Robin Brown, Richmond Council Lead Member for Finance, said:
"Over 800 people received the one-off grant last year and the Council are here to help again this year.
"The ever-increasing cost of fuel bills mean people struggle to pay their heating bills. But no one should have to face fuel poverty – so, please apply for these vital grants before this month's deadline."
If you would like to apply, you can download the Fuel Grants application form from the Council website or pick up a hard copy from the Civic Centre in Twickenham or Council libraries across the borough.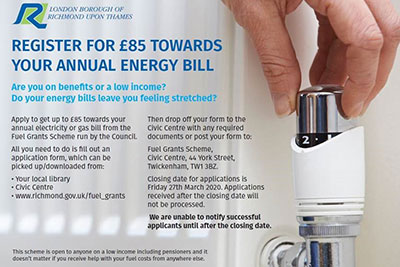 Notes for editors
If you are a journalist and would like further information about this press release, contact Fenna Maynard on 020 8487 5182.
Reference: 075/20