Leader issues warning to residents who flout Government guidance
Release Date: 27 March 2020
Residents who are ignoring Government guidance regarding social distancing have been told that they are putting their lives, and the lives of others, at risk.
Over the past few days, the Council has received a number of reports of residents ignoring the new Government distancing rules that have been put in place to combat the spread of Coronavirus.
The guidance states that everyone should stay at home. People should only go outside for food, health reasons or work (but only if you cannot work from home) and stay 2 metres (6ft) away from other people.
Since Saturday 21 March 2020, several social care workers have reported that whilst visiting the homes of vulnerable residents in the borough, they have struggled to access a small number of properties due to picnics and mini 'street parties' being held in the street.
An estate agent has continued to open a number of branches, despite the Government ruling that they should close. Staff members have also been seen 'flyering' households to tout for business.
In addition, in line with the Government guidance around banning visits to playgrounds, barrier tape in play areas has been 'ripped' off, encouraging children to play on the equipment.
Parkguard, the Councils park security contractors, have increased their patrols of borough parks, to encourage residents and visitors to abide by the 2-metre rule. Whilst they have been reinstating barriers around playgrounds, they have also had to ask people who have been holding picnics and gatherings to move on. (See the attached image of York House Gardens).
Cllr Gareth Roberts, Leader of Richmond Council, issued residents with a stark warning:
"I don't like having to chastise residents. Ninety nine percent of local people are following the rules around social distancing and doing their bit to stay at home and not make non-essential journeys.
"However, I am shocked and appalled at the very small number of people that seem to be content with putting their lives, and the lives of others at risk. It is irresponsible and not fair.
"The Police have confirmed that they will take action to stop this senseless behaviour. But I urge all residents and businesses – play by the rules. This isn't a game. These kind of decisions might not make you ill, but they might be deadly to an older person, a nurse, a social worker or child.
"This isn't forever. But the longer people are irresponsible, the longer it will take to eradicate this virus."
See video of the Leader's appeal to local people.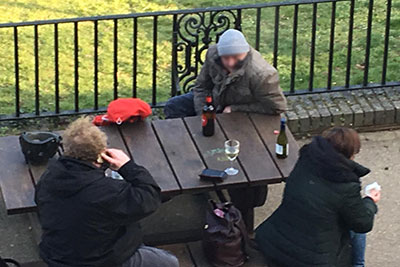 Notes for editors
If you are a journalist and would like further information about this press release, contact Elinor Firth on 020 8487 5159.
Reference: P100/20