Meals on Wheels in urgent appeal for help
Release Date: 31 March 2020
Meals on Wheels delivery staff are urgently needed in Richmond upon Thames to help with the rise of people accessing the service.
Richmond Council commissions Apetito to deliver its vital Community Meals service. It is a lifeline for residents, particularly older people, who can't get out and about or cook for themselves.
Apetito deliver nutritionally balanced meals to people's homes. Hot meals are delivered daily in foil containers, or frozen meals can be provided on a fortnightly basis. 
But as the coronavirus outbreak is rapidly spreading, demands on the service are increasing. Apetito urgently need to recruit additional staff to help deliver the meals. Customers include the NHS, Care Homes, as well as direct to people's homes.
For those interested in available posts, go to: www.apetito.co.uk/careers or email your CV to recruitment@apetito.co.uk.
Cllr Piers Allen, Chair of the Adult Social Services, Health and Housing Services Committee, said:
"Meals on wheels is a life-line to so many people. And, with even more people now considered 'in need', more residents are needing to access the service.
"Apetito therefore need more staff to help deliver the service.
"Meals on Wheels is more than just providing meal. Many of the people who receive the deliveries live alone. The meal delivery is also about making sure we are checking on people, identifying if they are well or in need of further support.
"If you are looking for a role or able to help, I urge you to get in touch with Apetito without delay."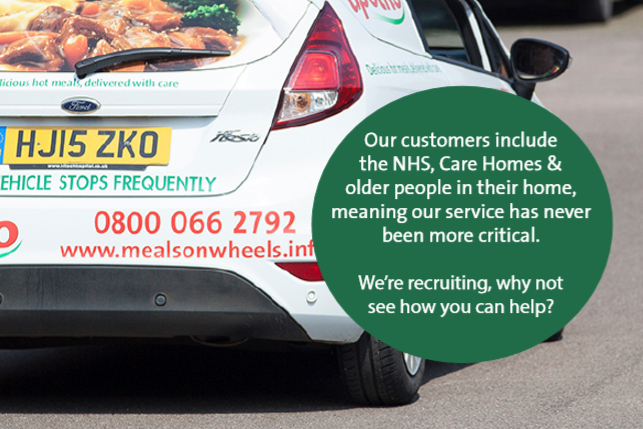 Notes for editors
If you are a journalist and would like further information about this press release, contact Elinor Firth on 020 8487 5159.
Reference: P105/20