Non-perishable food and essentials urgently needed
Release Date: 20 March 2020
Businesses and residents are urged to come forward and help support some of the boroughs older and most vulnerable residents, who are struggling to get the shopping they need during this pandemic.
With panic buying common across the country, there are many local older people and those at risk not being able to access adequate provisions. 
Age UK Richmond along with 19 other local charities under the Community Independent Living Service (CILS partnership) in collaboration with Richmond Council are working together to help and support the most in need during the current unprecedented COVID-19 health crisis. 
From Monday the 23rd of March, they will start taking donations of food and household items from the public and local businesses, which will then be delivered via a trustworthy network of third sector staff members and DBS checked volunteers. 
Non-perishable donations needed: tinned soup, fruit and vegetables, tinned meat and fish, powdered milk, rice, pasta and sauces, cereals, biscuits, crisps, toilet rolls and personal care items for example: baby wipes, incontinence pads and cleaning products. 
Donations accepted from Monday 23 March, 9am till 2pm until further notice at: Twickenham Wellbeing Centre, Arragon Road, Twickenham, London, TW1 3NH. 
Please drop your donations and we will ensure they reach housebound older and most at risk people that need them during COVID-19 pandemic. 
Cllr Michael Wilson, Lead Member for Communities and the Voluntary Sector, said:
"Over the past few days we have seen amazing displays of community spirit. And we have to continue with these efforts. 
"Despite Government and supermarket pleas, people are still panic buying. And, this has meant it is almost impossible for some of our more vulnerable residents and key workers to even buy milk or bread. 
"We can't stop people buying excess food. But, we can all rally together and help support some of our older residents and those at risk. It isn't fair that they have to suffer because we all apparently "need" dozens of toilet rolls and 30 tins of beans. 
"I would like to thank our amazing voluntary sector groups for being so proactive with this initiative. Without them, so many people would be isolated in their own homes and not able to eat or access healthcare.  
"But these groups need your help. Businesses – please can you set aside some donations, and residents, particularly those who could share, please take a look inside your cupboards and think about whether some of the items can be donated to these vital groups."
See more information about other ways you can help.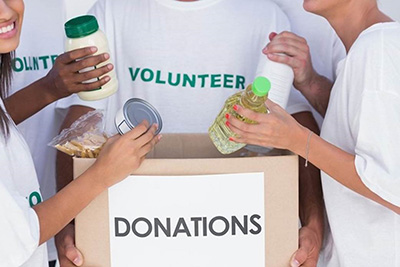 Notes for editors
If you are a journalist and would like further information about this press release, contact Elinor Firth on 020 8487 5159.
Reference: P088/20
Updated: 07 September 2021