The Coronavirus Winter Support Fund (food, utilities and winter essentials) has been set up to support Richmond residents who may need additional assistance over the winter months. The aim is to give vulnerable households peace of mind in the run up to Christmas and over the winter months during the pandemic, by helping those who need it to have food on the table and other essentials, so every child will be warm and well fed this winter.
About the fund
The Coronavirus Winter Support Fund was established in December 2020 and will be used by us and other local organisations to provide support to vulnerable residents through the winter months. The scheme will run from December 2020 to 31 March 2021.
On 24 November 2020, we received formal notification that the Council was being offered grant funding of £336,857 as part of an overall national allocation of £170 million from the Department for Work and Pensions (DWP) to support children, families and the most vulnerable over winter. 
The funding will be used to provide Richmond households with food, support to pay for heating, lighting, water and other winter pressures over the coming months.
To be eligible to access support you will need to be a resident of the London Borough of Richmond upon Thames and one or more of the following eligibility criteria must apply:
You have insufficient funds to access nutritional meals between December 2020 and March 2021
You have insufficient funds to be able to keep your home warm, electricity on and access to water for cooking
You have insufficient funds to be able to afford hygiene products, warm clothing, soap, blankets, boiler service/repair, access to equipment including fridges, freezers, ovens, etc.
The scheme will seek to support vulnerable families as follows: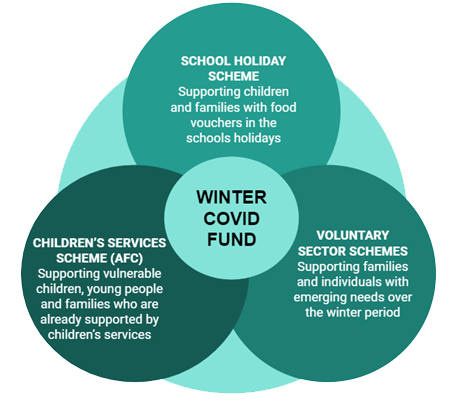 School Holiday Scheme
Families with children who are eligible for Free School Meals will receive electronic supermarket food vouchers for the school holiday period. Achieving for Children (AfC) will also be inviting families in financial hardship with two, three and four year olds to take up the school holiday offer. Eligible families will be emailed supermarket vouchers of £15 per week, per eligible child over the school holiday period. Alternative arrangements will be made for families who do not have access to email.
Children's Services Scheme
Achieving for Children is already working with many families across the borough and some of these families may need additional support over the winter months. AfC will be working to identify relevant families and young people. Where needed, support with food, utility bills and other winter pressures will be provided through a voucher or small grant scheme. If you are already working with AfC and feel you would benefit from accessing additional support please speak to your AfC contact.
Voluntary Sector Scheme
We will be partnering with the voluntary sector to ensure that this fund can be used to support any family who needs additional support over the winter months.
If you are concerned about winter pressures please contact Richmond Aid or Citizens Advice Richmond using the following details:
Richmond Aid
Telephone: 020 8831 6070
Richmond Aid website
Citizens Advice Richmond
Telephone: 080 82 78 78 73
Citizens Advice Richmond website
Sign up for updates
We are hoping that the Winter Support Fund will be live within the next few weeks. However, if you are a local resident and would like to be kept informed about when the grant is available for applications, please complete this form and we will send you an email when applications open.