AfC website downtime
Children's services in Richmond are delivered by Achieving for Children (AfC). Some links in this section go to the AfCinfo website. This will be down for scheduled maintenance from Monday 27 September until Monday 4 October. During this time you will be redirected to a page with contact details for AfC teams and links to frequently used forms.
We aim to reply to your application within two working days.
Why apply for free school meals?
If you are eligible for free school meals, you could be saving yourself hundreds of pounds a year in the cost of school meals or packed lunches.
The school also benefits, as they will receive up to £900 per year from the government for each child registered, which they can use for books, equipment or even on more staff.
School lunches are an excellent source of nutrition, and are now some of the healthiest provided to school children in the world.
A regular cooked school lunch gives children the opportunity to eat and socialise together outside of lessons and they are more likely to try new foods if they see their friends eating them.
The old fashioned stigma associated with free school meals is a thing of the past, with schools operating cashless canteens, so there is nothing to distinguish a child using free school meals from those whose parents and carers pay for lunches.
Am I eligible?
You are eligible if you receive one of the following benefits:
Income Support
Income-based Jobseeker's Allowance
Income-related Employment and Support Allowance
Support under Part VI of the Immigration and Asylum Act 1999
The guaranteed element of Pension Credit
Child Tax Credit (provided you're not also entitled to Working Tax Credit and have an annual gross income of no more than £16,190)
Working Tax Credit run-on - paid for 4 weeks after you stop qualifying for Working Tax Credit
Universal Credit - if you apply on or after 1 April 2018 your household income must be less than £7,400 a year (after tax and not including any benefits you get)
Nursery aged children must be receiving education before and after lunch to be entitled to free school meals.
Important changes to applying for free school meals
If you and your child live in the London Borough of Richmond upon Thames and your child attends a state-funded school in the borough you apply for free school meals through Richmond Council.
If you live in the London Borough of Richmond upon Thames and your child attends a state funded school in another borough e.g. Hounslow, then you will need to apply to that borough.
If you live in the London Borough of Wandsworth, the London Borough of Hounslow, or in Surrey and your child attends a school in Richmond Borough, you apply via Richmond Council.
What we will do for you
Once we receive your application we will let you know the outcome by email (if an address is supplied) or by post. We aim to do this within two working days.
If you are eligible, we will tell your child's school. You won't have to worry about renewing - if you still qualify we will automatically renew your entitlement every year. However, if your circumstances change, in regard to your address or your eligible benefits, you must let us know.
More information about free school meals
Please contact the Pupil Finance Officer regarding any free school meal enquiry.
Telephone: 020 8547​ 5448
Email: freeschoolmeals@achievingforchildren.org.uk
If you have any particular need such as an induction loop, signer or interpreter, please let us know in advance.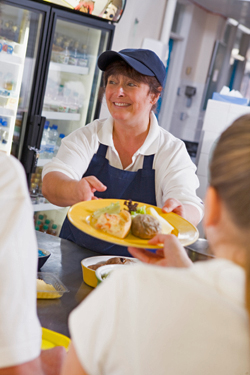 Updated: 02 September 2019