Celebrating Diwali 2020 differently
Date: Wednesday 11 November 2020
Author: Surinder Sembi, Multicultural Richmond Elders Group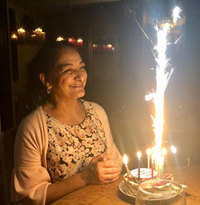 Multicultural Richmond have members from 16 diverse backgrounds, all with different cultural festivals and we try to celebrate all of them in the intended style. Many of our members celebrate Diwali which is on Saturday 14 November this year.
Diwali, Dipawali, also known as the Hindu Festival of Lights is celebrated by millions including Sikhs and Jains all over the World. Northern India celebrates the story of King Rama's return to Ayodhya after he defeated Ravana by lighting rows of clay lamps. Southern India celebrates it as the day that Lord Krishna defeated the demon Narakasura.
For Hindus the true meaning of Diwali is the celebration of light, making a fresh start, and new beginnings and the triumph of good over evil, and light over darkness. Many people consider that Diwali marks the start of their new year, enabling them to make plans for a new start. Homes, offices, shops are cleaned and decorated with lights and diyas, and sweets are distributed to relatives and friends. Fireworks shared.
For Sikhs, Diwali is particularly important because it celebrates the release from prison of the sixth guru, Guru Hargobind, and 52 other kings with him, in 1619. Sikhs celebrated the return of Guru Hargobind by lighting the Golden Temple and this tradition continues today.
Jains celebrate Diwali in atmosphere of austerity, simplicity, serenity, equity, calmness, charity, philanthropy and environment-consciousness. The lights are symbolic of knowledge or removal of ignorance. The most important principle of Jains is Ahinsa or non-violence, thus they tend to avoid firecrackers during Diwali as they cause harm to living organisms.
Due to COVID-19, this year we are celebrating Diwali remotely. Members will be dressing up, decorating their homes and preparing special dishes. We have planned games, songs and singing competitions. Over a session of Zoom we will be sharing the above.
Tips for celebrating Diwali safely:
Check to see if your local temple has Diwali prayers or worship online that you can join
Make a card for loved ones and post it or surprise them with a phone call
Cook up a feast for those in your household or support bubble
Organise a video call with your family and friends who you can't spend Diwali with in person
Decorate your home with bunting, fairy lights, garlands and rangoli decorations
Perform the story of Ramayana as a family and record it to share with your loved ones
Share kindness – donate to a local food bank or your temple, light a diya in memory of someone or write a letter to residents of a local care home
Happy Diwali