Richmond Gives Back: Meet the Hygiene Bank
Date: 3 September
Author: Julia Westgarth
The Hygiene Bank aims to being communities together to tackle hygiene poverty by providing essential products to those of us locked in poverty.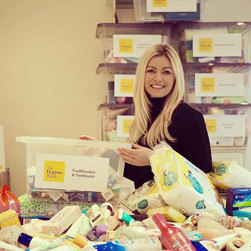 At The Hygiene Bank, we believe each and every one of us should have a dignified life. It's not right that feeling clean should be a luxury or a privilege for anyone in our society, yet many of us are living in poverty and can't afford to be clean. That's why our network of banks exists – to give people access to the basics they need. We're a grassroots, people-powered charity and social movement, grounded in community. Our passions stem from a sense of injustice that anyone should be locked out of living a decent, dignified life, so we work to inspire social change.
Hygiene poverty is not being able to afford many of the everyday hygiene and personal grooming products most of us take for granted. The reality of low income is that it restricts people's options, leaving them caught between being able to heat their home, pay their rent, eat or be clean. This grip of poverty strips people of their dignity.
We have local projects throughout the borough, run entirely by volunteers. We have drop-off points in local shops and businesses where members of the community can donate new and unused hygiene basics. These are then collected, sorted and distributed to community partners to pass on to those in need. We work with foodbanks, schools, churches and charity partners to make sure those in our community have what they need. Find your local drop-off point.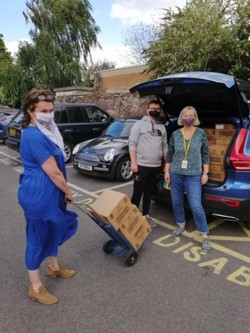 We rely completely on the generosity of the community, and during the coronavirus crisis the community has not let us down. The Hampton and Twickenham projects have responded to more requests in the past 6 months than in the entire previous 12 months, joining forces with local schools who found themselves suddenly having to provide food and toiletries parcels for families in need. The response to our appeals on social media has been phenomenal, and we are truly grateful. Supporting The Hygiene Bank is a simple way to support not just one organisation, but hundreds of grassroots initiatives within the Borough tackling a wide range of issues, from poverty to domestic abuse and disability.
How you can help #RichmondGivesBack
This year, The Hygiene Bank is launching National Hygiene Week (14 to 20 September) to raise the conversation that hygiene poverty is real for many of the 14 million living in poverty in the UK. Visit our website and get involved in our 7 ways in 7 days campaign.
Donate: Find your local drop-off point or find your local project on Facebook or Instagram and donate via their online wish lists.
Host a drop-off point: If you're a local business and could have a yellow bin where members of the public can donate hygiene products, please contact your local coordinator (details below). If you're a member of a club, run a youth group or social club and could organise a collection, we'd love to hear from you too.
Spread the word: Follow us on social media (details below), like and share our posts and help to raise awareness.
Contacts
The Hygiene Bank, Twickenham
Project co-ordinator: Julia Westgarth - thbtwickenham@gmail.com - 0781 698 3088
The Hygiene Bank, Twickenham: Facebook
The Hygiene Bank, Twickenham: Instagram
The Hygiene Bank, Hampton
Project co-ordinator: Sarah Allen - thbhampton@gmail.com - 07787 728417
The Hygiene Bank, Hampton: Facebook
The Hygiene Bank, Hampton: Instagram