Human Rights Day 2021
Date: 7 December 2021
Author: Cllr Michael Wilson
Title: Spokesperson for Communities, Equalities & the Voluntary Sector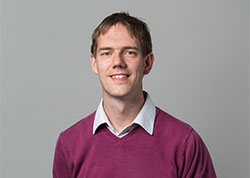 This year's theme for Human Rights Day is equality - reducing inequality and advancing human rights.
I have to say writing this piece for the council is a struggle. The news both nationally and globally does not lend itself to hope about the year we have had or the year to come.
The pandemic is still having a significant impact - even with the booster programme underway the danger of new variants looms over 2022 like a dark storm cloud. Vaccines are saving lives and livelihoods but we know we must remain vigilant. However, the pandemic has exposed and made worse inequalities across the country including here in Richmond upon Thames.
This is especially true for children and young people, many of whom are facing more days without formal education and without social contact with their friends and peers. Tragically, in some circumstances, the most vulnerable have lacked the escape route a minority of children need from the worst circumstances. Tackling the mental health and wellbeing emergencies our children and young people are facing must be a priority if we are to tackle inequality and advance human rights.
But inequality and attacks on human rights across the world are getting worse. The world is desperately lacking vaccines even though countries like ours are throwing them away. Funding for international aid has been cut because economies have shrunk and, in some cases, through political choice. Migrants, or in other words human beings: children, mothers, fathers, sisters, brothers, sons, daughters, husbands and wives, who are risking their lives for a better one here in the UK, are drowning in the channel because of a failure to provide safe and secure routes for refugees. None of this helps tackle inequality or advance the case for human rights.
As a local authority our resources are limited, but just as with the Syrian refugee crisis, we have tried to work with private landlords, faith groups and the voluntary sector to help those fleeing Afghanistan. We pledged to be an accessible borough and put equality at centre of all policy decisions. We've tried to ensure our roads are safer and our air is cleaner for our children, the elderly and those with disabilities.
At a local level, the climate emergency, which will significantly impact inequality, requires political will and resource, both of which on your behalf we have provided. When the Government failed to provide free school meals in the holidays, it was this council that stepped in to make sure those children had food. We have restored the council tax relief scheme to help the most vulnerable and, as well as supporting the Government's Everyone In pandemic programme, we also stopped the ridiculous charge homeless people used to face for storing their belongings.
We may not have achieved all that we can or all that we should have in these challenging times, but it should be the goal of every government, local or national, to tackle inequality and advance human rights. Some are better at it than others, but we all must try harder in these difficult times.
Human Rights Day 2021 takes place on Friday 10 December 2021.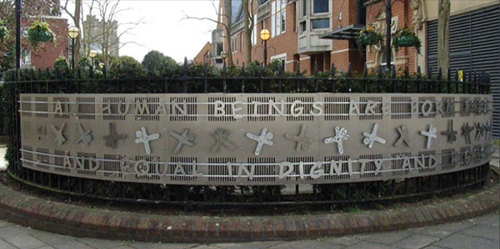 Human Rights, Sam Haynes (2010), Outside the Civic Centre, 44 York Street, Twickenham
Artist Sam Haynes was commissioned to create United Nations to mark the 60th anniversary of the Universal Declaration of Human Rights. The semi-circular relief was designed to inform current and future generations of the importance of human rights. United Nations is stainless steel with laser engraved surface designs. The first of 30 rights laid out within the declaration of Human Rights 'All Human Beings are Born Free and Equal In Dignity and Rights', is laser cut and mounted onto the semi-circular sculpture. Artist Sam Haynes led a series of art workshops with Christ's School, Grey Court School and members of Twickenham Day Centre. Together they designed a series of small spinning figures which are laser engraved with text and images that reflect the struggle for human rights. 
Funded by: Thames Community Foundation, London Borough of Richmond Small Grants Fund, Amnesty International Richmond and Twickenham Branch and United Nations Association Richmond and Twickenham Branch Public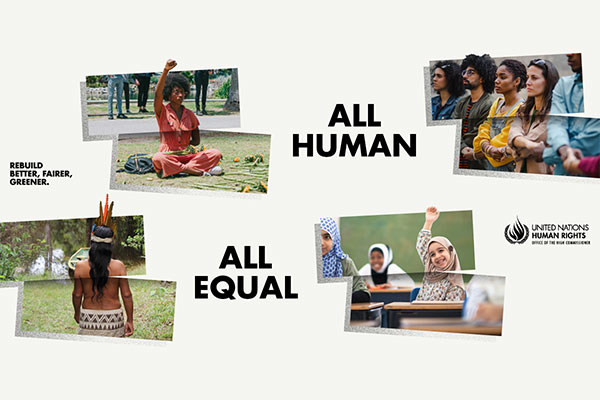 Updated: 21 December 2021