Richmond Council remembers Councillor Geoffrey Samuel
14 November 2023
Richmond Council is very saddened to learn of the passing of Councillor Geoffrey Samuel after decades of service to the borough. 
Councillor Samuel passed away on Friday 10 November after a period of illness. 
First elected in 1957 to the former Twickenham Council, Councillor Samuel represented Hampton North ward, serving as Deputy Leader and Cabinet Member for Finance for much of the last Conservative administration. 
Councillor Gareth Roberts, Leader of Richmond Council, said: "This week, we mourn the loss of another distinguished and long-serving member of Richmond Council and the Richmond upon Thames community."
"Cllr Samuel was passionate about his home borough and Hampton North ward, previously serving as Deputy Leader of the Council from 2010 to 2017 during the last Conservative administration. He displayed fairness, integrity, a fondness for language and a keen expertise in his varied portfolio of work across his decades-long tenure. He was very well respected across the political divide while remaining a proud representative of the Conservative Party.
"After the 2022 local elections, when Geoffrey was the only Conservative to be elected, I asked him 'Geoffrey, what do I have to do to beat you?' His answer was simple 'You must try harder.' Perhaps a not unsurprising response from a former Headmaster. On reflection I'm pleased we hadn't tried harder and that for another 18 months both I, and the Council as a whole, were able to enjoy the benefit of his knowledge, wisdom and his friendship. He, along with Martin Elengorn who died the same week will be sorely missed by councillors and officers alike; I doubt we shall see their like in the chamber again.
"Having dedicated himself to nearly 40 years of service to our community, his passing is an immense loss to us all, and I would like to send my deepest sympathies and best wishes to Geoffrey's family and loved ones at this sad time."
A spokesperson for the Twickenham Conservative Association said: "Geoffrey was not only active in politics, but also served the community where he had lived since 1940. For 23 years he was Headmaster of The Heathland School in the London Borough of Hounslow, and he was also deputy chairman of the Richmond Bench for many years.
"Age was no barrier to Geoffrey; he undertook his contribution to public life with an energy and zeal that would shame those half his age. He was hugely active as a councillor, tirelessly working for his constituents, achieving positive outcomes, and solving their problems. To our certain knowledge, he was the oldest working councillor in the UK, and we are sure we will never see another like him."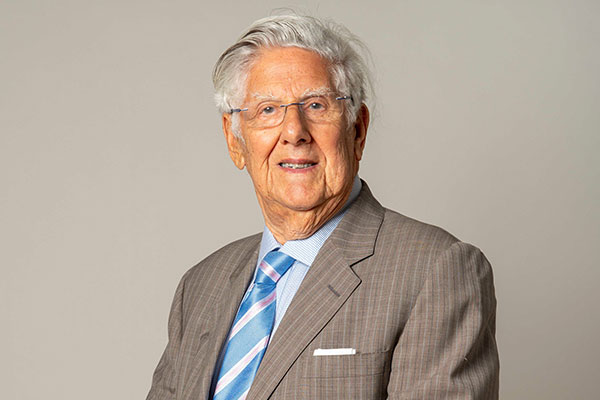 Updated: 14 November 2023