Local policing update - August
Date: 11 August 2021
Author: Rebecca Robinson
Title: Neighbourhoods Inspector, Richmond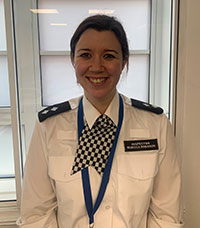 We've had another busy month in Richmond.
I am pleased to say we have continued our proactive work, resulting in a few noteworthy pieces of work from the team. We have executed a number of warrants again this month, seizing a potentially dangerous dog and a large amount of drugs.
We continue these investigations and will likely continue to execute more warrants in the coming months. We absolutely could not do this without the intelligence we get fed it so please do encourage the residents of Richmond to continue to feed through information.
As well as this, we have also assisted flying squad in finding a suspect to a burglary and other offences highlighting the importance of our grass roots policing.
On a personal note this has been my last month in charge of Richmond Neighbourhood teams, and I am sad to be leaving just as we are to start public engagements again.
I have in the last month visited the synagogue to discuss patrol around High Holy days and other concerns. I have attended the University in order to answer questions over stop and search.
I know this good engagement will continue as will the dedication of the ward officers.