Richmond upon Thames policing update
Date: 4 May 2021
Author: Rebecca Robinson
Title: Neighbourhoods Inspector, Richmond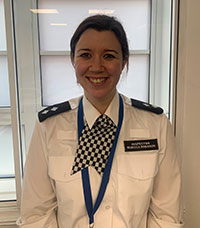 In the Borough of Richmond upon Thames, within the South West Basic Command Unit (SW BCU) and across London, we have been working closely with partners and the wider community to reflect upon recent events and the subsequent expressions of concern and anger.
Our Public Protection Unit leads on violence against women and girls. Working in partnership with the Local Authority, they focus upon prevention, intervention and enforcement. Since the tragic murder of Sarah Everard, we have reviewed and confirmed our strategy, while increasing activity.
For instance, we have deployed officers on high visibility patrols in open spaces and identified hotspot areas for robberies and violence against women. Other colleagues continue to arrest individuals identified as 'high harm' domestic abuse suspects. Our ward teams have been meeting with local women's and girls' groups, to listen to their concerns and to provide appropriate support and reassurance.
We have also been planning for the further ease of lockdown, which will no doubt be welcomed by us all. However, we are conscious that the joy associated with relaxation of restrictions may be accompanied by some concerns around anti-social behaviour and violence against women.
As a result, we have worked closely with specialist teams, community partners and the Local Authority to shape both our short-term patrols and long-term design plans to ensure ease of lockdown goes as smoothly as possible.
Against this background, we have maintained our commitment to proactive policing of community priorities such as drug-related violence and anti-social behaviour. For instance, our Safer Neighbourhood Teams recently located and closed down a cannabis factory and executed a further warrant.
Our teams have also been focusing heavily on thefts of catalytic converters and have been working in partnership with several supermarkets that have been identified as hotspots, to place warning signs in their car parks. There will be significant further activity in this area over the coming months.
If you have concerns about crime or ASB in your area or would like to contact your neighbourhood policing team visit Met Police.