Discover the rich history on our doorsteps with Habitats & Heritage
Date: 20 April 2021
Author: Emily Lunn
Title: Heritage Project Manager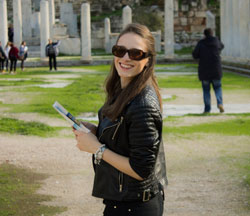 For many of us, international travel still seems like a long way off. But that doesn't mean you can't go on an adventure and discover something new closer to home!
There are many wonderful historic buildings and hidden monuments to uncover across Richmond, but perhaps one of the most eccentric is the ornate tent in the churchyard of St Mary Magdalen Roman Catholic Church in Mortlake.
Incongruously set among trees and Victorian tomb stones, the large stone tent marks the final resting place of one of Britain's most colourful Victorians, Sir Richard Burton, and his equally daring wife Lady Isabel Burton.
Like a real-life Indiana Jones, 'Ruffian Dick' was known as much for his flamboyant lifestyle and wild social life as for his daring expeditions around the world. He could speak over 27 languages, travelled everywhere from the tropics of Brazil to the Syrian desert and cold climes of Iceland, and perhaps most famously translated the Kama Sutra.
Their eccentric mausoleum, carved to look like is it billowing in the breeze, is believed to be based on a tent the Burtons had specially designed for expeditions into the Syrian desert. It is decorated with a gold star-and-crescent motif and inside is a collection of lanterns.
Camel bells hang from the ceiling which would have jingled when the central door (now blocked up) opened. Although it is no longer possible to go inside, today visitors can glimpse the curious and rather magical interior through a window at the back accessed by a short and sturdy ladder when the churchyard is open.
Habitats & Heritage, a local nature and heritage conservation charity, is raising funds to carry out essential repairs to the mausoleum, and as 2021 marks the 200th anniversary of the birth of Sir Richard Burton, we're also encouraging everyone to become an explorer and discover something new on their doorstep. While we might not be able to travel as far as Sir Richard Burton at the moment, a visit to his mausoleum will certainly feel like an adventure!
Find out more about Burton: Exploring Without Boundaries on the Habits & Heritage website.