Local policing update - April 2022
Date: 5 April 2022
Author: Jon Mcloughlin
Title: Richmond Neighbourhoods Inspector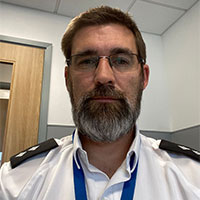 Richmond's neighbourhood police teams have been working on lots of activity in the last week to respond to crime and the concerns of residents.
Most notably would be the charge of Leone Davies, 18 (25/01/04) of Twickenham, for the offences of murder and possession of an offensive weapon, after the tragic death of Mirko Naramcic in Ham on Thursday 17 of March 2022.
Detectives have led this investigation ably supported by our neighbourhood officers whom have been undertaking visible patrols and engaging with the community.
The street briefing on Thursday 24 March gave the residents the opportunity to meet the Ward team in person and ask questions regarding ongoing concerns and issues they are experiencing.
The Kew team arrested two 15 year olds found in possession of a stolen bicycle, further searches conducted at their properties recovered another bike believed to be stolen.
Both have been released and the investigation remains ongoing. They have also been patrolling areas highlighted by residents for drug use, resulting in multiple stop and searches.
As well as this, the teams PCSO Lorraine Childs visited a victim of burglary, and met their Ward Panel Meeting to discuss Neighbourhood Watch in the area.
The Barnes team held their Police Liaison Group meeting at the Castlenau Centre on Monday 28 March – it was great to hear residents' concerns and questions.
The South Twickenham Team are appealing to residents in relation to a series of smashed car windows on the weekend of Sunday 27 and Monday 28 of March around the Radnor Road area of Twickenham – if you were victim to these who has not yet reported it or you believe may have witnessed the incident please get in touch.
Our colleagues from Royal Parks Police, who police Richmond and Bushy Parks in Richmond are reminding the public to clean up after themselves as the weather gets warmer. Litter from picnics can be dangerous to wildlife, and is antisocial. They have been busy checking on unpermitted trade vehicles found driving in the park.
The Teddington and Hampton Wick Teams are photographed on patrols below. They held a street briefing to talk to residents on Sunday 27 March which was well received. The teams are regularly patrolling the high street, backstreets and searching our green spaces for discarded weapons or tools.
Our neighbourhood teams exist to address local crime problems in the community – they are our bobbies on the beat who deal with antisocial behaviour, persistent crime problems and know their areas well. If you have any concerns and want to speak to them you can find them on What's happening in your area?