Local policing update - February 2022
Date: 15 February 2022
Author: Jon Mcloughlin
Title: Richmond Neighbourhoods Inspector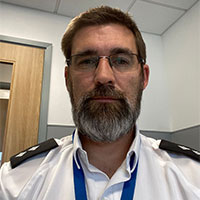 As a team we have continued to undertake meetings and be as visible as we can within the community. We continue to undertake daily patrols in and around the busy Twickenham and Richmond town centres in uniform and plain clothes.
There will be bike marking on Saturday 19 February at midday at Murray Park in Whitton run by the local neighbourhood teams. It's free, come and meet your local ward officers, get all your bikes security marked it will be great to see everyone.
The recent meetings with residents in both Castelnau Centre in Barnes and also at our ward panels for the Teddington, Hamptons and Hampton Wick wards were really well received. It's an excellent way for the local community to share their concerns with the local teams, so if you are interested in joining one in future I would encourage you to view Safer neighbourhood groups.
To experience policing first hand either by going for a walk along with your local ward officers or being out with the response teams dealing with the emergency calls please email SWMailbox-.RIDEALONG@met.police.uk for more details.