Celebrate World Book Day by supporting our independent bookshops
Date: 2 March 2023
Author: Rachel, from Parade's End Books in Ham and Adam, from The Sheen Bookshop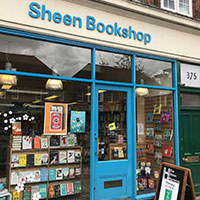 Independent bookstores offer a unique, quality shopping space for book lovers and newcomers alike. With comfortable atmospheres and friendly shop owners who have an encyclopaedic knowledge of books, they provide a personalised, tailored experience for each customer who walks through the door.
In Richmond upon Thames, there is no shortage of fantastic independent bookstores ready to get customers excited about reading in a way that online shops can't.
In honour of World Book Day on 2 March, we had a conversation with two of our local book shop owners; Rachel, from Parade's End Books in Ham and Adam, from The Sheen Bookshop in East Sheen - who shared with us why they believe independent bookstores are vital to communities, what they love most about running their shops, what they have going on locally and, of course, their favourite book recommendations.
What would you say are the benefits of shopping from independent book shops versus big chain stores?
Rachel: Like most local shops, you have a relationship with the people there. You're welcomed, you're recognised, you get to meet other people in the community. During the pandemic, we missed face-to-face interactions. Now, there's the freedom to come out and talk to one another and be in a welcoming space. People are comfortable to browse our books, discover new reads and get to know our booksellers. 
Adam: Bookshops, like The Sheen Bookshop are a vital part of a local community.  We provide a safe space for people where they can talk about books. We can recommend books for Adults and Children alike with meaningful not computer algorithm selections. We are the original book influencers!  We tailor what we sell to what our customers want. We can also most books that we don't have within a day or two. We also support local schools and businesses making us a vital part of our high street. Supporting bookshops helps the high street thrive and build communities.
What do you love most about running your independent book shop?
Rachel: Our customers! We love talking to customers, chatting about their lives, their interests, favourite books. It feels like a community hub. We also love recommending books – it's nice to pick a book directly for them.
Adam: We love the serving our wonderful customers and helping them find the perfect book! We have a great community of book lovers in East Sheen so it's always lovely to chat about books with them every day and help them find what their looking for!
How are you be celebrating World Book Day this year?
Rachel: Parade's End will be taking books to Alexandra Primary School for the pupils. All schools are given a voucher for books, so we will spend the day at the school, with each class coming to pick up books. We have books for all ages in the school, from 3 years to 11 years – it's a great thing!
Adam: We will be celebrating World Book Day this year! We have World Book Day books that customers can swap with their vouchers! We are also running a short story competition for children under 12 to encourage kids to get writing this World Book Day. The winners will be announced on Saturday 4th March! We have several schools coming into both our Sheen shop and our Kew shop, and we are providing books for 4 book fairs.  Busy times! 
What sort of things do you have coming up that local residents can get involved in?
Rachel: We are hosting a fun reading of children's picture book, Frog's Bog. The author will be joining us in store and there will be some fun, Froggie crafts! We will also be holding an event about sensory parenting.
 
Adam: We will be participating in East Sheen's annual Easter Hunt this year (details coming soon) which is a great event for children with lots of local businesses joining in! We also often host bookshop events, including Saturday Storytimes with authors and illustrators. Keep an eye out on our website and social media channels for announcements of our next events.
And of course, we have to ask – what are your top three favourite books?
Rachel: Tides by Sara Freeman; Small Things Like These by Claire Keegan (perfect jewel of a book!); and The Mad Women's Ball by Victoria Mas. My favourite children's book is The Emperor of Absurdia by Chris Riddell.
Adam: Our current top three favourite books are Circe by Madeline Miller; The Mermaid of Black Conch by Monique Roffey; and Clytemnestra by Costanza Casati! Ask me tomorrow and you'll get a different answer!
We have a load of fantastic independent bookstores across our borough – find the ones in your area and pay them a visit!