International Women's Day: Women in construction
Date: 8 March 2023
Author: Hannah Tyers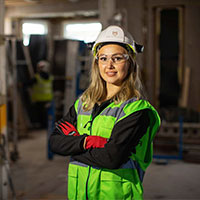 This International Women's Day, the South London Partnership (a partnership between five South London boroughs, including Richmond upon Thames), are encouraging more women to consider a career in construction.
As the world celebrates International Women's Day today, research shows that 14 per cent of construction industry professionals are women – and this number is set to increase, especially across South London.
The SLP is running a campaign to highlight the benefits of an apprenticeship in construction and is supported by businesses and colleges across the region. Construction apprenticeships are available in a range of roles including site management, quantity surveying and business administration.
Businesses, colleges, tutors and apprentices are pulling together to debunk some of the misconceptions around the industry.
Among them is apprentice Hannah Tyers who said she worried that being a woman in the construction industry would be intimidating.
"Before I started my apprenticeship I did worry that I'd feel intimidated on site," said Hannah, 22, who is doing a degree apprenticeship as an assistant surveyor with Walter Lilly. "However, everyone is very supportive and having different viewpoints definitely benefits the whole construction process".
Being a woman in the construction industry makes me feel like I'm really making a difference.
"I decided to do an apprenticeship because I liked the idea of getting work experience while I study. It's really good being able to learn at university and then put that knowledge into practice on-site. Also, I can pass on my knowledge so I become part of a chain, teaching others."
Hannah, who is studying at the University of Westminster, works most of the week on a site in Kensington helping to create luxury multi-million-pound property. Hannah's father Darren is a sub-contractor in the construction industry and she wanted to do something different to him but still remain in the field she was familiar with.
"I would say to anyone thinking of doing an apprenticeship, go for it," she said. "You earn while you learn and you don't build up debt as companies will sponsor students through their degree. Also, you get valuable experience on-site, which is so important in the construction industry."
Supported by the Mayor of London, the initiative by South London Partnership comes after research revealed a shortage of workers in the construction industry.
The Construction Industry Training Board (CITB) has released its annual Construction Skills Network (CSN) report which shows that Greater London needs 22,800 extra workers by 2027 – that means an annual recruitment boost of 4,560.
The campaign is seeing councils, colleges and businesses in South London working together to find the construction apprentices and tutors needed across the industry.
The South London Partnership is a sub-regional collaboration of five London boroughs: Croydon, Kingston upon Thames, Merton, Richmond upon Thames and Sutton. Tutors from a range of backgrounds are also needed in order to help guide apprentices through their journey in the industry. They will be responsible for providing the support needed for apprentices to develop their technical skills as well as professional attributes such as communication, problem-solving and teamwork abilities.

For more information email csl@southlondonpartnership.co.uk or visit South London Partnership.