Supporting schools in Ukraine
Date: 16 February 2023
Author: Robin Jowit
Title: Former Mayor of Richmond Council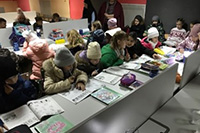 In January, with the support of international charity, Rotary, I visited Kyiv, Ukraine, to witness the impact of the war on the education of the children. This is my story.
Serhiy Zavadsky and I visited seven schools over four days and had a private meeting with the Deputy Mayor of Kyiv, Mr Valentyn Monrriiskyi. During my visit, some schools had unscheduled electricity cuts and missile alerts, which meant the children had to move to bunker shelters.


Bunker shelters
The missile alerts often occurred during school hours, around four times a day. With no electricity, moving to the bunkers in cold weather conditions, this impacted the routine of the children's education, making it a difficult environment to learn. The three schools in Kyiv and Boryspil to the East were not overrun during last year's invasion, but the four schools, thirty to fifty kilometres to the West, were either damaged or overrun by the invading Russians.
The Buzova school suffered a serious missile attack, with 116 windows blown out, and two schools have had to merge. The kindergarten in Makariv was blown up, and the school in Borodyanka, normally 900 children, has had to absorb an extra 600 children and operate on three shifts.


Damaged school
Many children, teachers and families have moved from the current war in the East of Ukraine to Kyiv and West. The children have experienced traumatic events where family members have died, friends going missing, and their homes being destroyed.


Damaged accommodation
Due to the electricity shortages, schools in Ukraine desperately need generators or solar systems. The children also require additional teaching aids where properties have been damaged.
During the Covid pandemic, the schools developed excellent online learning skills that have been useful during the current crisis, although there are many stationery and internet shortages.
Teachers, many with their own personal issues, are the unsung heroes. They are providing psychological assistance to traumatised children, together with support from Rotary and other charities.
With the support of Richmond upon Thames Council, I presented the Deputy Mayor with a Borough shield on behalf of our Mayor, Cllr Julia Cambridge. One objective of the trip was to see if schools were interested in links with our borough schools. All schools visited and the Deputy Mayor expressed an interest, which will be followed up.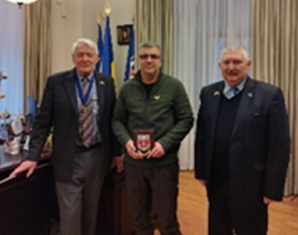 Robin Jowit, The Deputy Mayor and Serhiy Zavadsky
On the third day, we drove to Moschun, where 70% of the 600 houses have been destroyed. Can you imagine the disruption to everyday life if 70% of houses in your area had been destroyed? Rotary have supplied 100 shelter houses at £11,100 each and Rotary Club of Kew Gardens have raised funds for another.


Destroyed homes in Moschun
The objective now, supported by Rotary, is to publicise the experience and raise money for generators, solar systems and other necessary educational equipment for the schools.
If you would like to make a donation, you can visit Rotary's Crowdfunder page.
Updated: 16 February 2023