Stakeholders gather for SEND conference in Twickenham
Release Date: 28 June 2019
There were 325 children and young people, families, and stakeholders from health, education and social care who gathered at the Stoop in Twickenham yesterday, Thursday 27 June, for the 2019 SEND Futures Conference.
Over 75 parents attended in person and were able to contribute to the discussions from their own experiences. They were joined by voluntary organisations working in the borough with children, young people and parents of children with special educational needs and disabilities.
The conference was an opportunity for Richmond's SEND community and service providers to come together, share learnings, deepen their understanding and work together to ensure high quality SEND services continue to be delivered in Richmond upon Thames.
Learnings from the conference will help both the Council and Achieving for Children, which is commissioned to deliver social care and educational services in the borough, build on the steps already taken to drive continuous improvement in the quality of SEND provision in Richmond upon Thames. This includes a plan to introduce a new SEND quality assurance officer, ensuring parental feedback is captured on an ongoing basis, and working with other local authorities to peer review services and promote best practice.
There are 3,500 children and young people attending schools in Richmond upon Thames with special educational needs and disabilities. A further 1,400 children and young people in the borough require Education Health and Care Plans.
Cllr Penny Frost, Chair of Richmond Council's Education and Children's Services Committee said:
"This conference was a great opportunity for those attending to meet and hear from a breadth of people involved in SEND, from parents to young people to professionals working on the frontline."
"Conferences like this are a vital component of our ambition to work alongside our SEND families to develop the kind of services and support they need."
"We know there are financial challenges facing the sector as a whole, which are felt particularly acutely by those of our SEND families with high and complex needs, but we are committed to doing all we can to address these – and to pushing the Department for Education to look closely at its SEND funding models so the needs of local families are better met."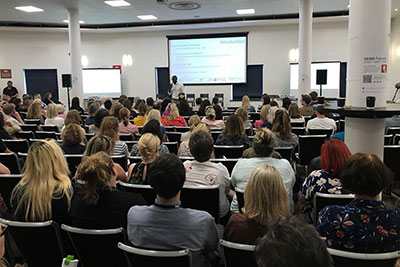 Notes for editors
If you are a journalist and would like further information about this press release, contact Lyle Skipsey on 020 8487 5182.
Reference: P204/19