Consumer Protection Newsletters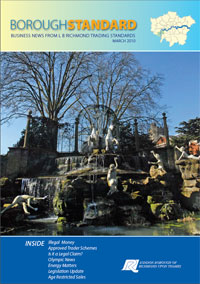 Trading Standards ('Borough Standard' magazine)
Spring 2010(pdf, 721KB) - Illegal Money, Approved Trader Schemes, Is it a Legal Claim?, Olympic News, Energy Matters, Legislation Update, Age Restricted Sales.
Spring 2009(pdf, 1464KB) - Doorstep Selling, Pricing Reminder, Age Restricted Sales, Licensing Act, Smoking Ban - Update, Selling on the Internet, Dealing with Loan Sharks, Warning to Licensed Premises.
Spring 2008(pdf, 1174KB) - New Trading Laws, Enforcement Policy, Cosmetic Safety, Weights & Measures, Scambusters, Energy Labels.
Environmental Health News
Summer 2009(pdf, 1311KB) - Smokefree Richmond, Oak Processionary Moths, Construction Noise, Safer Food Better Business, Scores on the Doors, Health and Safety - General Responsibilities