Fourteen eCargo bikes given to local businesses and charities
Release Date: 22 May 2020
Following a successful bid by Richmond Council, a selection of local charities and businesses, as well as services in Richmond Council, will soon have electric cargo bikes to replace journeys currently carried out by vehicles.
The bikes are part of the Energy Saving Trust's eCargo Bike Grant Fund Local Authority Scheme, where the Council was successful in its bid for funding made available by the Department for Transport. It received £62,000 to purchase the eCargo bikes and equipment for use in the borough. 
The organisations receiving bikes in the borough include:
The Council's Inspection and Enforcement team
The Council's Trees team
The Council's Libraries team
The Tapestry Tapas Bar
TAG Youth Club for Disabled Young People (charity)
Environment Trust
Friends of Heathfield Recreation Ground and Environs
Leigh Gardens
Scent of Blooms
Achieving for Children
Barnes Community Association
Sheen Delicatessen
Cllr Alexander Ehmann, Chair of the Transport and Air Quality Committee, said:
 "Now more than ever, we all need to consider whether we can make the switch to walking or cycling.  Business and organisational use of eCargo bikes will not only help reduce traffic on our roads and improve the borough's air quality, but it also makes solid financial sense.
"Helping businesses and organisations move from delivery vans to eCargo bikes contributes to Richmond Council's aim of becoming a carbon neutral borough by 2030. I hope that when more people see how effective these bikes are, more businesses and organisations will want to move to this sustainable and efficient mode of transport."
Tim Anderson, Head of Transport at Energy Saving Trust, added:
"The Department for Transport eCargo Bike Grant Fund attracted a significant number of applications. The 18 local authorities who have successfully secured funding will purchase a total of 273 eCargo bikes and nine eCargo bike trailers, enabling more businesses to benefit from access. eCargo bikes are an attractive low carbon transport solution which offer important benefits, most impressively fuel cost savings and contributing to improved local air quality. Last mile delivery is an important area for consideration in our journey to reduce transport emissions to net zero by 2050."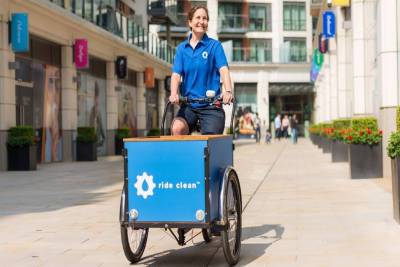 Notes for editors
If you are a journalist and would like further information about this press release, contact Fenna Maynard on 020 8487 5182.
Reference: P180/20
Updated: 01 September 2021