Garricks Lawn
Hampton Court Road, Hampton, TW12 2EN Map
Garricks Lawn is home to Garricks Temple to Shakespeare, an 18th century structure that was built to celebrate the works of William Shakespeare.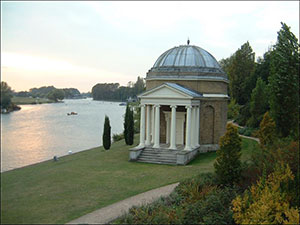 About the park
Garricks Temple features a replica statue of Shakespeare that has been supplied by the British Museum. The surrounding gardens offer tranquil views of the River Thames.
Visiting the park
The gardens are locked at night.
Visit the Garricks Temple website to check opening times before you visit. The park is served by the 111, 216 and R68 bus routes and the nearest train station is Hampton.