Moormead and Bandy Recreation Ground
Moor Mead Road, Twickenham, TW1 1JS Map
Created from wasteland, this lively park now plays host to a number of sports and community events and has a pleasant village green atmosphere.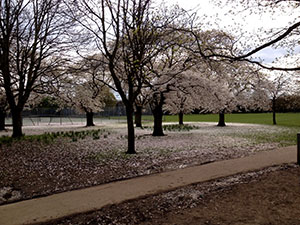 About the park
The park has numerous facilities including a children's playground, football facilities and tennis courts.
The River Crane runs along the western side of the park, making it a great vantage point to spot riverside wildlife.
Visiting the park
Moormead and Bandy Recreation Ground is accessible at all times.
Twickenham and St Margarets stations are nearby, and the area is served by bus routes 33, 110, 290, 490, H22, 267, 281, R68, H37 and R70.