Radnor Gardens
Cross Deep, Twickenham, TW1 4RB Map
It is believed that the first Weeping Willows were planted at Radnor Gardens, which also houses several rare and beautiful trees including an Indian Bean (Catalpa Speciosa).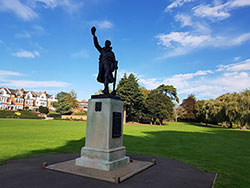 About the park
The summerhouse and gazebo in the gardens date from the mid 18th century, during the period when poet Alexander Pope was a local.
A cafe, bowls club and play area can also be found on site and fishing is permitted with the appropriate licence.
Friends of Radnor Gardens
If you would like to become involved in the park or find out about the projects Friends of Radnor Gardens are working on, then please visit Radnor Gardens website.
Visiting the park
Radnor Gardens is accessible at all times. 
The nearest station is Strawberry Hill, and the area is served by bus routes 33 and R68.