Vine Road Recreation Ground
Vine Road, Barnes, SW13 0NE Map
This former orchard, nestled between two sets of train tracks in Barnes, is now a very popular recreation ground.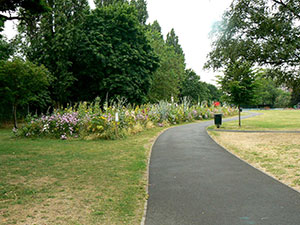 About the park
The park is suitable for ball games and has a playground for all ages, as well as a paddling pool.
A perennial wildflower meadow has been sown to add colour and diversity to this lively area.
Barnes Common Limited
If you would like to become involved in the park or find out about the projects Barnes Common Limited are working on, then please visit the Vine Road Project website.
Visiting the park
Vine Road Recreation Ground is locked at night. See parks opening times for information about when the park is accessible.
There is car parking available, and Barnes and Barnes Bridge stations are nearby, as are bus routes 33, 72 and 265.