Westerley Ware Recreation Ground
Kew Green, Richmond, TW9 3AP Map
Westerley Ware is a small garden and recreation ground, nestled at the foot of Kew Bridge.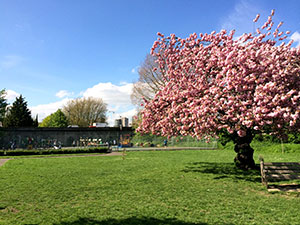 About the park
The park has a large grass area and a quiet hedge-bordered memorial garden, originally created for those who had fallen in the First World War.
There are also play facilities available. 
Friends of Westerley Ware
If you would like to become involved in the park or find out about the projects Friends of Westerley Ware are working on, then please visit Westerly Ware website.
Contact details:
Visiting the park
Westerley Ware Recreation Grounds are locked at night. See parks opening times for information about when the park is accessible.
Kew Bridge and Kew Gardens stations are nearby, as are the bus routes 65 and 391.