There are many opportunities to contribute to the upkeep of local parks and nature conservation sites.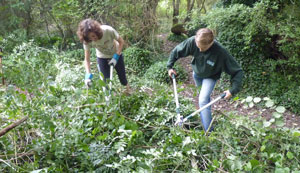 The Conservation Volunteers 
The Conservation Volunteers (TCV) run activities several days a week in the borough.
Richmond's Green Gym
The Richmond's Green Gym is a volunteer group that allows participants to:
Learn new skills
Enjoy the great outdoors
Make new friends
Get fit
The Green Gym runs sessions every Wednesday in and around Meadway Orchard. All sessions are free and no experience needed.
Contact details:
View the Green Gym flyer

(pdf, 1.1 MB) for more information on how to get involved.
Biodiversity Action Team (BAT)
The Biodiversity Action Team (BAT) runs sessions across a number of sites.
Contact details:
Habitats and Heritage
You can find more information on volunteering for conservation projects in Richmond through the Habitats and Heritage website.

Habitats and Heritage (H&H) can also assist groups who would like to organise their own environmental events such as litter picking. On their website you can find advise on how to organise such an event. There are also templates for writing your own risk assessment and other advice.

H&H also provide a comprehensive list of local organisations and a yearly calendar of volunteering activities within the borough.
Friends groups
Some of our parks have Friends groups. Check our individual parks pages to find a group near you.
Updated: 29 September 2022