Bikehangars are designed to provide a secure on-street cycle parking solution and can only be accessed by a member using a key. They enable more cycling by providing a solution to those who would otherwise be unable to securely store a bicycle.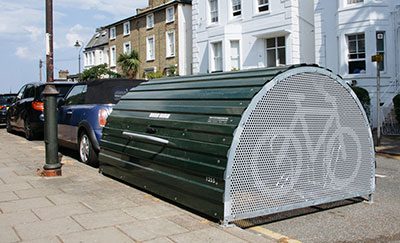 Availability and cost
Bikehangars are priced at £72 per year and managed by CycleHoop. Bikehangars will be prioritised to residents who:
Live on the street (or adjacent one) where the bikehangar is provided
Do not have a garage or suitable outside space to store a bike
Demonstrate high levels of local support
Phase 1 - Installations
A report to deliver secure on-street cycle storage was approved at committee on 23 September 2019 (item 14).
Following public consultation, bikehangars were installed in the following six locations at the beginning of January 2021).
| Street name | Ward |
| --- | --- |
| Cambridge Road | Teddington |
| Edwin Road | South Twickenham |
| Fulwell Road | Fulwell and Hampton Hill |
| Hartington Road | St Margarets and North Twickenham |
| St Margarets Road | Twickenham Riverside |
| Walpole Road | Teddington |
Phase 2 - Installations
We would like to hear residents' feedback on the 24 proposed locations across the Borough. Please visit the Bikehangar Consultation 2021 page to submit your views.
All feedback will be carefully considered before any decisions are made about the proposed sites. We aim to install the bikehangars in May 2021. 
Upon installation, residents will be able to apply for a space via the provider. Visit Cyclehoop for more information.
There will be a further phase of consultations later in the year on more locations.
Let us know if you'd like a Bikehangar installed on your street
Registering your interest for a Bikehangar on your street does not count as an application for a space in that Bikehangar. The application process will go live to residents once locations are confirmed. Places will be allocated on a first come first served basis.
Requests for Bikehangars installations on Richmond highways only. For installation enquiries on housing estates or residential blocks please contact your landlord.
Demonstrate support for a Bikehangar and ask your neighbours to submit their interest too.