E-scooter public hire trial
The e-scooter public hire trial aims to test the viability and safety of e-scooters on public roads.
About the trial
We are participating in Transport for London's (TfL) multi-borough trial e-scooter public hire scheme, which began on 7 June 2021.
This scheme is made possible by legislation passed last year enabling local authorities to host public hire schemes subject to Department for Transport approval. The trial aims to test the viability and safety of e-scooters as part of a long-term solution to air quality and congestion issues across London.
In order to continue learning from the trial, it has been extended to November 2022.
Operators
Operators Dott, Lime and TIER have been appointed to take part in the trial following the selection process thanks to their ability to meet strict safety requirements and high operating standards.
How to hire an e-scooter
You can begin and end your journey at the parking locations listed below. You will need to download the operator's mobile app to hire an e-scooter. The rental fees for the e-scooters are:
Dott - £1 activation charge then 15p per minute
Lime - £1 activation charge then 16p per minute
TIER - £1 activation charge then 15p per minute
Details of any discounts or promotions are available on each operator's app.
E-scooter rules
Only e-scooters which are authorised as part of this public hire trial are legal for use on roads or other public spaces. Privately owned e-scooters are currently illegal and users can be subject to fines of up to £300 and up to six penalty points on their driving licence.
E-scooters rented from the scheme are permitted to ride on Richmond's public roads and cycle infrastructure - not on the borough's pavements.
Users must be 18 or over and have a full or provisional driving licence.
The police will enforce against illegal use of e-scooters and the operating companies will take remedial action against users who do not comply with the law or the rules of the trial.
Safety
The safety standards for e-scooters include:
A maximum speed of 12.5mph
User education and awareness
Lights at the front and the rear of the vehicles that are always on throughout any rental
Geofence technology to support parking and riding only in authorised locations
Monitoring the trial
We have worked with Transport for London, London Councils and other London boroughs to develop the trial. You can find out more about the trial on the TfL website.
Richmond Council and TfL will closely monitor the effects of the trial, which has the potential to add to the transport options within the borough, subject to understanding its impact on other road users and safety. We reserve the right to withdraw from the trial and cease operations for any reason if the trial proves unsustainable.
How to report issues with service or user behaviour
The operators are committed to providing an excellent service both for users and for non-users. If you encounter any difficulties with the service, or in the way that e-scooters are being used by others, please report it to the relevant operating company.
Each e-scooter being used in the trial has a clearly visible identifying number and is tracked by its operator. Operators can issue warnings or ban customers if they have evidence that they have used an e-scooter unsafely or in breach of their conditions of use. If you witness any criminal behaviour on an e-scooter, please also report it to the police.
TIER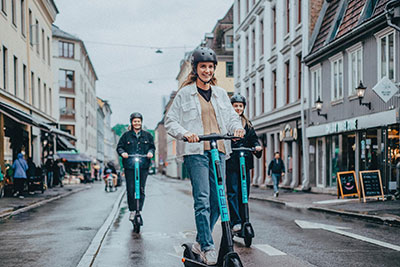 Telephone: 0808 164 9486
Email: support@tier.app
Twitter: @tierscooters
Dott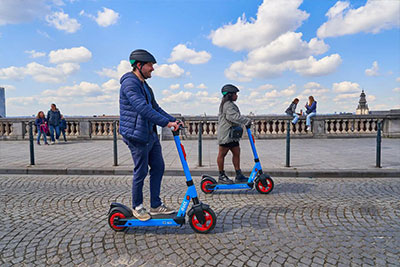 Telephone: 0800 048 8993
Email: support@ridedott.com
Twitter: @Dott_UK
Lime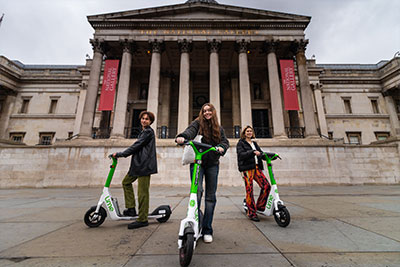 Telephone: 0800 808 5223
Email: support@li.me
Parking locations
The parking locations are listed below and, for route planning purposes, can be seen on this map. We are investigating potential additional parking locations with a view to implementation in late summer 2022, subject to resident feedback.
We have deliberately designated parking locations on the carriageway.
E-scooters can only be parked in the designated locations, so plan your journey and find the parking place closest to your destination.
Please note that Hammersmith and Fulham is currently the only neighbouring borough participating in the trial. It is not possible to ride an e-scooter beyond the borough boundary in other directions. Hammersmith Bridge remains closed to traffic and currently e-scooters can only be taken over the bridge if pushed on foot.
E-scooter parking locations

| Area | Location | Description |
| --- | --- | --- |
| Barnes | Church Road | Near Castelnau/Rocks Lane |
| Barnes | Nassau Road | Near Church Road |
| Barnes | Station Road, Barnes Station | Near station entrance |
| Barnes  | Glentham Road | Near Castelnau |
| East Sheen | Milton Road | Near Upper Richmond Road |
| East Sheen  | Vernon Road | Near Sheen Lane |
| Ham | Ashburnham road | Next to Car park, opposite St Richard's Church |
| Ham | Richmond Road / Ham Parade | Near Dukes Ave |
| Ham  | Parkleys Parade | Near Ham Farm Road |
| Kew | Kew Green | Near Kew Gardens Elizabeth Gate and Herbarium |
| Kew | Kew Green | Near Kew Road (south side of Kew Green) |
| Kew | North Road | Between High Park Road and station entrance |
| Kew | Station Approach | Near station entrance |
| Mortlake | North Worple Way | Near White Hart Lane |
| North Richmond | Tangier Road | Near Tangier Green and Clifford Avenue |
| North Richmond  | Stanmore Road | Near Kew Road |
| Richmond  | Clarence Street | Opposite Orange Tree Theatre |
| Richmond  | Park Lane | Near Parkshot |
| Richmond  | Richmond Hill | Near Star & Garter |
| Richmond  | Sheen Road | In front of Lichfield Terrace |
| Richmond  | St John's Road | Near the Church of St John the Divine |
| Richmond  | Whittaker Avenue | Next to Reference Library (Old Town Hall) |
| Teddington | Broad Street | Near Queens Road |
| Teddington | High Street | Opposite Cambridge Road  |
| Twickenham | Civic Centre  | Car park |
| Twickenham | Garfield Road | Near London Road |
| Twickenham | Heath Road | Opposite Copthall Gardens |
| Twickenham | London Road | Opposite police station |
Frequently asked questions
Read frequently asked questions about the e-scooter public hire trial.​