Looking after your bicycle - checklist
A visual checklist of what to look out for on your bike. If you are unsure, please take the bike to a bike shop for specialist advice.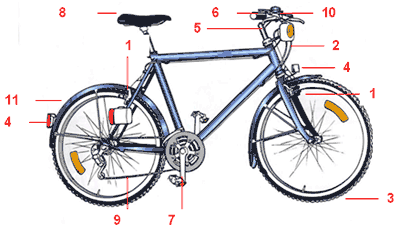 Key to the checklist
1. Brakes
Make sure they work. Check that brake blocks are in the right position, not touching the tyre and that they are not badly grooved or worn out.
2. Brake Cables
Make sure they are not frayed.
3. Tyres
Should have a tread pattern showing all round. Make sure they are well pumped up; this helps to avoid punctures and makes riding easier. Replace the tyre if you find any cuts, splits or bulges.
4. Reflector
All cycles must have a red reflector at the back as well as front and rear lights when cycling in the dark.
5. Steering
Can become loose.
6. Handlebars
Make sure they have good grips, bar ends and are lined up correctly.
7. Pedals
Must be able to spin freely.
8. Saddle height
Must be adjusted so the riders toes touch the floor on both sides.
9. Chain
Keep oiled and clean.
10. Gears
If the bike has gears, make sure that they are working properly and that your child knows how to use them.
11. Mudguards
If the bike has mudguards make sure they do not catch on moving parts.
If you have any queries please get in touch with the Safety Education Team.