Waste and recycling from a purpose-built flat
What to do with your waste and recycling if you live in a purpose-built flat.
Downloadable guide to recycling 
You can download our printable guide

(pdf, 784 KB) to keep on your fridge.
Leaving items for collection
Your managing agent, landlord or residents' association is responsible for providing appropriate bins for your property. Blocks of flats larger than seven units usually have shared communal bins for waste with recycling bins nearby.
Some flats will have locked communal rubbish stores. To ensure we can collect from these stores it is best to have a code system, such as a punch pad. We cannot guarantee that waste will be collected from locked bin store areas if keys are needed for access.
If you do not have appropriate recycling facilities the responsible property agent should speak to us to arrange.
Containing your rubbish and recycling
Residents should recycle using the containers provided.
Your recycling bin lids may be locked shut to prevent them being misused for disposing of general rubbish. However, the lids have slots for you to deposit your recyclable materials. 
View our list of recyclable items to find out where you can recycle them.
Mixed container bins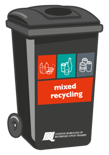 Use this for: Recycling clean plastic, metal and glass containers.
Please recycle: Plastic bottles, pots, tubs, trays, glass bottles and jars, food tins, drink cans, foil, empty aerosol cans
Not for: Any other type of metal, glass or plastic (e.g. plastic bags, film, cups or products)
Please rinse to keep items free of significant food remains. Squash plastic bottles and replace lids after rinsing as this helps fit more in the box. Include loose metal jar lids (not attached to the jars). However, any pump action mechanisms should be removed and placed in your dustbin.
Mixed paper bins

Use this for: paper, flattened card/cardboard and clean and dry food/drinks cartons (e.g. Tetra Paks)
Not for: Used paper cups or tissues, dirty paper, plastics or anything else
Try to contain any shredded paper to prevent it blowing out of your bin, for example by placing it inside an old envelope or an empty carboard cereal box
Food waste
Selected flats now receive a communal food waste recycling service. We are committed to rolling out this service to other flats during 2022 where practicable. If you would like to find out if your flats are suitable for the new collection service, please contact foodrecycling@richmond.gov.uk.
In the meantime, if you do not yet receive this service, please try to reduce your food waste and put waste you do produce in with your general waste if you are unable to compost it at home.