New podcast episode: Policing COVID-19
Release Date: 09 February 2021
Listen to the 10-minute Talk Richmond episode on policing COVID-19 with Inspector Rebecca Robinson, the Inspector for Richmond Neighbourhoods.
Inspector Robinson talks about what the police are doing to help with the COVID-19 response, including how they are enforcing the rules and issuing fines to those flouting them.
Cllr Jim Millard, Tenants' Champion and host of Talk Richmond, said:
"Inspector Robinson began her role as Inspector for Richmond Neighbourhoods when the pandemic began and has worked tirelessly with local communities to provide neighbourhood policing during what continues to be a very difficult time.
"Inspector Robinson was keen to remind listeners of the ways they can contact their local dedicated Ward Officer, and this is included in the episode's show notes as well as below."
To follow the local borough police team on Twitter: @MPSRichmond.
To contact your local Richmond Neighbourhood Policing Team, you can email them using your ward area name followed by @met.police.uk - for example Kew@met.police.uk or EastSheen@met.police.uk.
Report a COVID-19 breach (Met Police)
For more information, contact the Met Police.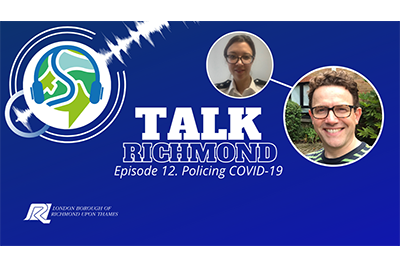 Notes for editors
If you are a journalist and would like further information about this press release, contact Fenna Maynard on 020 8487 5182.
Reference: P063/21
Updated: 02 December 2021