Reduce your carbon footprint at home
How to decrease your footprint
A quarter of the average household's carbon footprint comes from the energy we use in our homes. Small changes to the way you use energy and water can make a big difference to the size of your bills and reduce your impact on the environment.
Here are some simple ways to save energy, cut your bills at home and reduce your carbon footprint.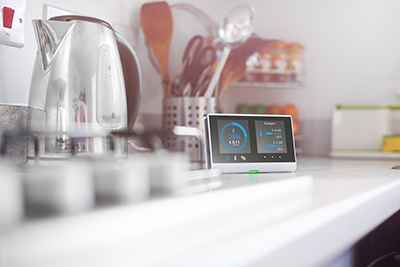 Switch it off
The average UK household spends more than £55 a year powering appliances left on standby (equivalent to 45kg CO2e) – and that doesn't include the money spent heating water and rooms when we don't need to. You can also track your energy usage easily by fitting a free smart meter.
Make the switch to a green or renewable energy supplier
Power your home with wind, solar, or hydro power to make a really big difference. The following providers offer green electricity and have been approved by the Energy Saving Trust:
Every drop matters
Heating water is one of the most energy-intensive activities in our homes.
Save hot water by opting for shorter showers rather than longer baths, popping a pan lid on when cooking, using a washing-up bowl when doing dishes by hand and not filling the kettle to the top if you're only making tea for one.
Using less cold water also helps. Turn the tap off when brushing your teeth, capture rainwater in a water butt.
Take a load off
Only do the laundry if you have a full load, wash at 30°C and use your machine's eco-setting, if it has one. Tumble dryers are one of the most expensive appliances to run in the home and they can shorten the life of your clothes too. Drying your clothes on a dryer or line during the summer can save you £30 off your yearly electricity bill.
Get cosy
More than half of a household's energy is used for heating so turning your thermostat down by just one degrees (to a minimum of 18 degrees celsius) could save you around £80 a year!
Home improvements, such as cavity wall or solid wall insulation, draft proofing windows and doors, lagging pipes etc can make, make a huge difference.
There are some grants available for people on low incomes. Speak to your energy provider to find out if you are eligible or look at the comprehensive Which? guide.
LED the way and aim for A+++
If you're a homeowner - or your landlord allows it - switch your lights to low energy bulbs. LED lights are a bright idea: they use 85% less energy than traditional bulbs and last much longer.
If you are buying a new appliance - look out for its energy rating. An A+++ rating will mean lower running costs, saving you money in the long term—even if it might cost a little bit more to buy. Make sure that you dispose of your appliances in the best way too: give your appliances a new lease of life by selling, donating, or recycling it.
Say no to plastic carrier bags, straws and other single use items
Remember to take a reusable bag, bottle and coffee cup with you when you go out. Have you ever thought about setting up a lunch club to reduce the amount of packaging you use?
Don't fall for fast fashion!
Buy fewer, better quality clothes that you love and wear for longer. This will save you money and reduce your impact. When you are finished with your clothes, donate them to one of our local charity shops or recycle them.
Compost your food scraps
If you have food scraps – remember to put them in your Council-provided food waste recycling bin. Alternatively, why not start home composting!
Recycle all you can
The Council offers a range of recycling services – most of them free to residents:
Dry recycling (plastics, paper, metals, glass)
Food waste
Garden waste (chargeable)
Bulky waste (chargeable)
In addition to the Council recycling, there are many national schemes available to Richmond residents.
TRAID textile recycling – Recycle clothes and shoes at your nearest bank or book a free collection.
Small electrical items – recycle at most local libraries or through our bulky waste collection service (chargeable).
Batteries – recycle at battery retailers, Townmead Road and selected local libraries.
Furniture – upcycle with the Richmond Furniture Scheme.
Terracycle – for hard-to-recycle waste streams like toiletry packaging, crisp packets, bread bags.
Olio – For food that can be shared, rather than thrown away.
Care and repair
Just because something is broken doesn't mean it can't be fixed. In Ham they have developed a community MakerLabs scheme, an all-inclusive space for people with an interest in DIY and craft. 
Eat for a climate-stable planet
In the UK, potatoes, bread, milk and leftover meals, soft drinks and meat are the foods most regularly wasted. All of this food takes a lot of energy and water to produce, package and transport to get it to our plate. In fact, the average UK family with kids could save £810 per year by reducing the amount of food wasted.
Even a small reduction in the meat and dairy we eat and drink, can make a big difference and improve your diet. So, you can still enjoy meals that are affordable, sustainable and delicious.
For further advice see:
How you can change the way you buy and eat food: