Richmond upon Thames is an enterprising borough with one of the highest rates of self-employment in the country, strengths in key growth sectors and a very highly educated and skilled workforce. With some of the highest business survival rates in London, and one of the county's lowest rates of insolvency and bankruptcy, Richmond upon Thames provides a vibrant and resilient place to do business.
You can find out more about our key sectors and explore local data and research below. For a useful third-party view of Richmond's business profile, visit London & Partners. You will also find links to other relevant pages at the bottom of the page.
Key information
Click the image below for more about this data.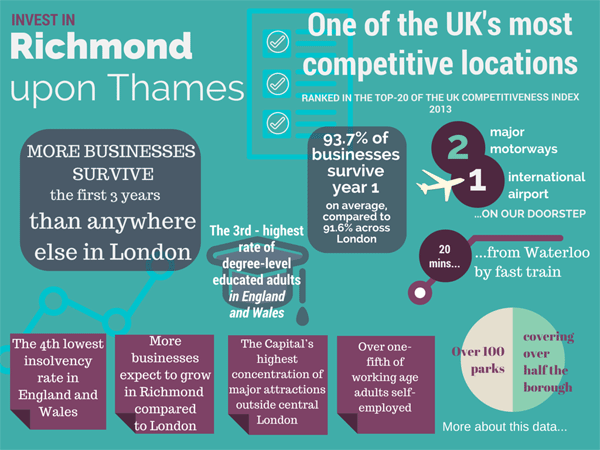 Key sectors
Business services
Richmond upon Thames is an excellent location for business, financial and ICT services.
Creative industries
The Borough hosts a wide range of properties in attractive settings which suit the needs of creative industry businesses.
Leisure, tourism and hospitality
Richmond upon Thames has an enviable collection of tourist attractions.
Retail sector
Richmond upon Thames has an affluent catchment population with a high disposable income.
Science and technology
Richmond upon Thames is a unique borough which has a cluster of high value professional, scientific and technical companies and a strong green technology sub-sector.
Additional links