Key information on businesses in the Borough.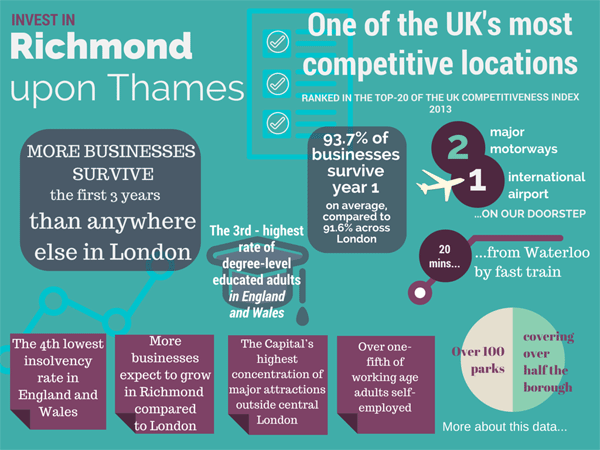 Key information
More businesses survive three years than anywhere in London
On average, 65% of businesses survive three years, compared to 58% in London and 62% in GB (data from the Office of National Statistics, covering survival of businesses that started between 2002 and 2010).
One of the highest first-year business survival rates in the UK
93.7% of businesses survive year one on average, compared to 91.6% in London and 92.6% in GB (data from the Office of National Statistics, covering survival of businesses that started between 2002 and 2012).
More businesses plan to grow than in London generally
66% of businesses expect to grow their business in the next two years (LBRuT Business Survey 2015), compared to 63% in London (2014 London Business Survey)
Third highest level of degree-educated adults in England and Wales
56.7% of residents educated to degree level or above, as evidenced by the 2011 census. This rises to 66.8% in the ONS Annual Population Survey (which samples households) compared to 49.1% in London and 36% in GB.
Fourth lowest insolvency rate in England and Wales
9.8 per 10,000 adult population (2014,The Insolvency Service).
One-fifth of working age adults are self-employed
21.2% of Richmond upon Thames residents age 16-64 were identified as self-employed in the 2011 census.
The Capital's highest concentration of major attractions outside central London
This brings an estimated £469 million annual income to the borough (GLA Local Area Tourism Impact Model, 2009).  It is likely that this figure has grown since this data was published. We estimate that the visitor economy also brings 4.5 million visitors per year, and this supports 12% of the borough's jobs (Local Economic Assessment, London Borough of Richmond upon Thames, 2010)
Over 100 parks
Parks and open spaces cover over half the Borough's area and we also benefit from 21 miles of river frontage.
Two major motorways and one international airport
The M3 joins the A316 in the north of Richmond upon Thames, 5 minutes' drive from its junction with the M25.
20 minutes from central London
Frequent fast trains from Richmond or Twickenham stations reach Waterloo Station in around 20 minutes. These are supplemented by stopping services, which includes direct links to Kingston and Hounslow.