Bogus callers are criminals who use a false pretext to call at your door with the aim of stealing from you. They may pose as utility workers with false IDs or as someone in trouble needing your help.
Doorstep sellers call at your door to sell you goods or a service but use illegal selling techniques, for example by saying you need unnecessary repairs.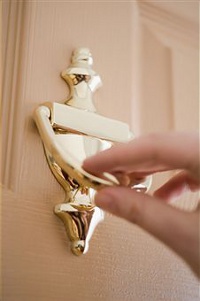 Advice on dealing with doorstep callers
It may help to use a 'We Do Not Buy at this Door' sticker, available at Operation Lockout events.
Detailed advice is given on both Age UK and Citizens Advice websites. 
In summary:
Use a door chain and spy hole (but remember to only use the door chain when you answer the door) and keep your back door locked
Ask to see ID and check it looks genuine (photo, expiry date etc)
If in doubt, call the person's company, getting the number from Directory Enquiries or the phone book, rather than off the person at the door
Don't pay for work up front
Remember, the law gives you a right to cancel a contract for goods and services where it is entered into in the home.
Use the password scheme set up by all gas, electricity and water companies
Use the Nominated Neighbour Scheme if available
If the caller leaves while you are making these checks, they are probably not genuine and you need to report them
If you are suspicious - ring the Police.
For older and more vulnerable people living on their own, Careline alarms or detectors in the home are a great way of getting help or reassurance in an emergency.
Anyone who has been affected by a rogue trader or deception burglary can speak in confidence to Victim Support by calling the Supportline on 0845 30 30 900. Victim Support also hold a drop-in session between 10am and 12pm on the last Friday of each month (except December), in the Old Bakery behind the Mortlake Training Centre, Lower Richmond Road SW14 7HJ. This is for anyone who has been a victim of crime. You don't have to have reported the crime to the police and there is no time limit on when the incident happened.
Reporting suspected bogus callers or illegal doorstep sellers
You can now contact Citizens Advice for advice about bogus callers or doorstep sellers. Phone 08454 04 05 06 or 020 8185 0710, Monday to Friday 9am to 5pm. They will refer doorstep sellers to your local Trading Standards team if appropriate.
Which? offer advice and an online tool for reporting nuisance calls and texts.
If you think you have been threatened or stolen from, please report the incident to the Police using 999.
Other types of scam
You can report scams by phone, email or post; and obtain advice online from Action Fraud, which is run by the Police, or ring 0300 123 2040 or 0161 234 9230.
You can try to reduce the amount of direct mail you receive and unwanted telephone calls by registering with the Mailing Preference Service and Telephone Preference Service.
The Action Fraud website has a page of good advice about protecting yourself from fraud.
Support for older and vulnerable people
The Nominated Neighbour scheme helps older and vulnerable people to deal with doorstep visitors. In addition, Safer Neighbourhood Teams can visit vulnerable residents on a regular basis.
For older and more vulnerable people living on their own, Careline alarms or detectors in the home are a great way of getting help or reassurance in an emergency.
Age UK in Richmond borough run a Handyperson Service for older people, which can sometimes help you avoid the need to find a reliable tradesperson.
Updated: 22 November 2019