Information on the Food Hygiene Rating Scheme for consumers.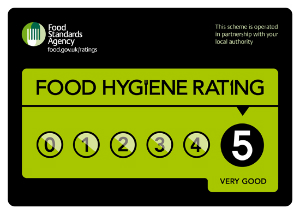 About
The Environmental Health team visits hundreds of food premises each year in order to check food hygiene standards and to help operators comply with food regulations. Inspections will often result in the food business being awarded a food hygiene rating.
The top rating of '5' means that the business was found to have 'very good' hygiene standards.
A rating of '0' is the lowest score and means that the business requires some 'urgent improvement'.
Search all food hygiene ratings in the area via the Food Standards Agency (FSA) website or use the Food Hygiene Standards app (which can be downloaded through Android or iTunes).
We also encourage businesses to display their food hygiene rating stickers and certificates at their premises in a place where you can easily see them when you visit.
Contact Commercial Environmental Health
If you have any questions or would like any advice, please contact us:
Food and Safety
Regulatory Services Partnership
Merton Civic Centre
London Road
Morden
SM4 5DX
Telephone: 020 8545 3025
Email: foodandsafety@merton.gov.uk
We are open Monday to Friday, 9am to 5pm.
Updated: 30 November 2020