Richmond Green properties
For the past 400 years at least, the Green has been edged by houses and commercial establishments.
Buildings were first erected to provide accommodation for people serving or visiting the Palace. By the first years of the 18th century these had given way to the homes of minor nobility, diplomats, court "hangers-on" and lodging house keepers; they were joined later in the century by French emigrees.
During the 19th century a number of the houses were used as dame schools and as offices and consulting rooms by solicitors and medical practitioners. The construction of the railway in the 1840s cut the Green off from Old Deer Park, (except by the footbridge) and was followed by the erection of Victorian villas for the more prosperous commuters.
Richmond Green is now one of the most sought-after addresses in the London area.


Prospect of Richmond (1726). Engraving.
See also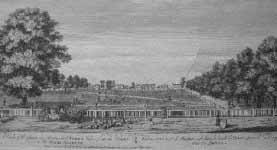 The Green in Richmond. Engraving.