Hampton Common
Buckingham Road, Hampton, TW12 3JA Map
This park has a rural feel with old field boundary hedges and mature oaks scattered around the site.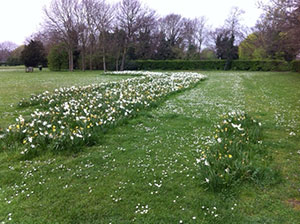 About the park
Developed from former nursery land, Hampton Common offers many different activities for its many users and is found across the road from Oak Avenue Local Nature Reserve.
Facilities include:
BMX track
Full sized football pitch
Play equipment suitable for children under 13
Friends of Hampton Common
If you would like to become involved in the park or find out about the projects Friends of Hampton Common are working on, contact the group at hamptoncommon_friends@hotmail.co.uk.
Visiting the park
Hampton Common is accessible at all time. The nearest train station is Hampton, and the area is also served by the bus route R70.
Updated: 10 November 2020