Darren Bartlett, founder of Darren Bartlett Real Estate shares his story of founding a boutique property agency.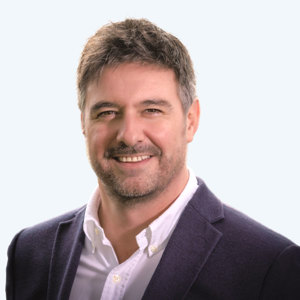 When I first walked into an estate agent looking for a job in my mid-twenties, they took one look at me and immediately said I had got the job. I am not sure what it was they saw in me, but clearly, I fitted the bill. I started on a measly £14,000 salary whilst I learnt the ropes. I was able to quickly build up knowledge and experience as it came naturally to me and before long, I was at a senior level. I really enjoyed the hands-on side to the work I was doing. I am a people person, so being around people and helping them to move into their dream home was what fuelled me.
After 16 years, I moved into property recruitment. I was recruiting for estate agents looking for people who could market homes and conduct viewings. Unfortunately, this role was not what I was expecting; there were a lot of no-shows and I cannot tell you how many times I was told that someone's car had broken down on a Friday afternoon. Dealing with estate agents, I was always let down.
It was in this role, whilst I was working long hours and finding that it was not really fulfilling me, that I had a seizure due to my stress levels. My other half, Anna, reminded me of my dream to be independent and start my own boutique agency. I took this as a sign that things did need to change - it was now or never.
Starting a boutique agency
So, I started Darren Bartlett Real Estate, partnering with Keller Williams, because I wanted to offer a much more personal, open service. I knew the games that high street estate agents were playing with people and I did not want to be part of it anymore. No mixed messages, no going back on our advice, no game playing - clear, concise, honest guidance. Now I work a much more flexible lifestyle - I am 'busy' but when it is doing what you love the way you love to do it it genuinely does not feel like work.
I also work with a Business Coach and I am taking an online course called 'The One Thing' where I am learning in detail about time-blocking, management my time effectively and growing a business from scratch. It has certainly been an eye-opening experience, and whilst it is been hard work over the last year, my business is now growing exponentially with so many recommendations coming in on Google and Facebook that people are phoning me asking me to market their property.
Expanding the team
Due to such rapid growth, I was able to bring on two new members to the DBRE team. Lauren, our resident Marketing and social media expert, Lisa, my amazing Virtual Assistant, and I am also hiring a Buyer Agent who will be working closely with me and local buyers looking for properties before they even come to the public market.
I am passionate about supporting local businesses in the Richmond-upon-Thames area. I am now running a local Directory for businesses to be promoted in and ensuring my clients can easily find great local services.
The Richmond Phoenix Enterprise Programme is a great local initiative offering free business support  for all prestart, start-up, existing businesses and residents of the Richmond Upon Thames Borough, regardless of industry. I have been involved as an accountability mentor, as well as attending the brilliant networking events and workshops they run.
I love that they are always willing to help, building the local business community and helping business founders learn the skills they need to be successful.
On that note, I have also written up my top tips based on my experiences to date.
Top three tips for business owners
My success ultimately comes down to these key points:
I set long term targets and then break down into monthly, weekly, daily targets. I regularly check in on progress and I block out my time to ensure I am working towards them
I write out an economic model - break it right down, even down to the small things. I ensure I am aware of exactly what I have to spend and where I allocate funds when they come in
Business based on genuine connections - I keep in regular contact with people, I phone people up just for a chat and to keep in touch. I sponsor the local schools, donating £250 every time a property is sold via a school connection. I ensure my network know what I offer, as at some point everyone needs to move home, and I'm able to make that a much better experience!
How can people find you?
Address:
26 The Quadrant, Richmond TW9 1DL
102-104 Church Road, Teddington TW11 8PY
Twitter: @bartlett_and_p 
Facebook: Bartlett & Partners