Dominique Nok, shares her story of setting up her photography business.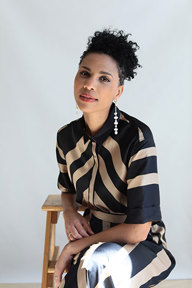 How would you describe your business in one sentence?
With Dominique Nok Photography and Curating I offer all my clients, from private customers and small businesses to arts institutions, top notch service and endeavour all parties feel good about the process throughout and the end result.
When did you launch and who is behind it?
Dominique Nok Photography started in Amsterdam just after graduating from the University of Journalism in Utrecht, the Netherlands. This was in 2006. Recently I started my curatorial practice. Now I offer both services either simultaneously or separately.
What did you do prior to starting your business?
I have been a photographer since my graduation, however also worked in many fields outside of photography. A few of my jobs were a receptionist, a cashier in a supermarket, a job center employee an editor for an urban magazine and more. I have tons of service-based experience that helped me shape my practices and business in the way it is today.
What inspired you to launch the business when you did? / When did your 'lightbulb happen'?
I have loved photography and have been involved with it since a very young age when I got myself a mini camera which only fitted one film. I never thought I wanted to make photography my profession as I wanted to become a journalist. During my time at university, I discovered I can also 'write' stories through images, and I never looked back. Before becoming a curator, I discovered an industry-wide absence and lack of recognition and representation of black artists. Wanting to see a change I became passionate to contribute to the conversations involving equal representation of artists from the African diaspora and from black, Asian and global majority heritage.
What type of support have you received since starting your business?
I started my photography business in Amsterdam. The support that I received was mainly from my husband, my family, and friends. I received my first real camera from the pastor of my church which helped me well on my way. When I moved to London in 2012, I went to the Job Centre and they offered help on how to set up my own business in the UK. I followed a course which was incredibly helpful. For my curatorial practice I received help and support from Midlands Arts Centre (MAC) in Birmingham. A couple of months after graduation I was given a placement funded by Art Fund at MAC. It was incredibly useful to be able to put my knowledge into practice.
What would you say were three of the most challenging aspects of setting up the business?
The most challenging thing was, when I moved to London, that nobody knew I was a photographer! It is really about who you know and who knows you in this industry.
I totally underestimated the power of my network (in Holland). I then went to many network events and started to build from here. Then I needed to find clients and my niche. I sort of started doing all kind of photography to earn a living although I already knew what I really wanted to do and already had a portfolio. I have always struggled with marketing. I am not a salesperson and rather work with word of mouth. That took me back to my first challenge, it was a vicious circle I needed to somehow break. When I gained more confidence and started to step out of my comfort zone I saw a difference.
What happened to your business during lockdown?
During lockdown I started my master's course in Curating and Collections at the University of the Arts in London. We needed to move from in person to hybrid learning to completely online lessons. This was challenging at times because art handling is very physical. I however, learned so much about curating and about myself. That I was capable of doing so much more, even as a mature student. I have gained massive confidence and graduating with a distinction was the cherry on the cake. I also worked on a couple of personal projects and had my photography displayed in an exhibition in Walsall together with my black UK based female photographers' community UKBFTOG.
What business lessons have you learned from Covid?
I have learnt that health is incredibly important and have grown in my empathy toward the less abled people in this fast-pacing society. Furthermore, being adaptable and that in a season of 'drought' new ideas can be planted and nurtured.
If you had the opportunity to do it all again, what would you do differently?
I would probably not overthink as much as I did. However, I am thankful for the scenic route I have taken. I am conscious that nothing I have done or not done was in vain, all is coming together beautifully now in my mid-forties.
What three tips would you offer to aspiring entrepreneurs?
For aspiring entrepreneurs within the visual arts industry, I would say:
Try to find your niche, what makes you happy and keep you true to who you are and want to be. Being inspired is not the same as copying, find your own voice
Once a week tell at least one or two people what you do and ask for opportunities! It sounds so simple, but as I said before it is about who you know and who knows you
Learn how to budget and get a healthy understanding and relationship with money and finances. If needed go on a course and get the knowledge. Money and your arts practice go hand in hand
Tell us about your latest venture
Over the past months I have been working on a community showcase for UK Black Female Photographers (UKBFTOG) at the Photography Show at the NEC in Birmingham. I curated the group exhibition shown from 17 to 21 September 2022. Here I also displayed my own work "Where the Grass is Greener". With this personal ongoing project, I want to showcase that what is most valuable to us is not out of reach, but often right in front of us.
How can people find you?
Website: Dominique Nok
Instagram: @dominiquenok
Facebook: Dominique Nok Photography