Lynda Jones, founder of The Vegan Soap Company London, says that it is never too late to start your own business which is sustainable and plastic free.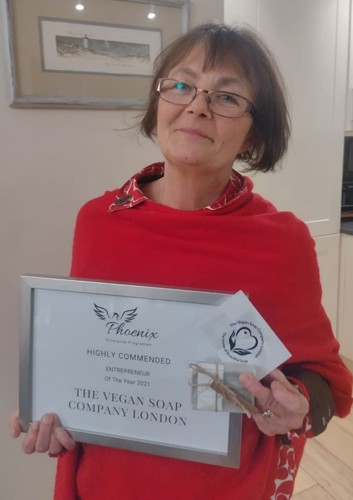 Back in 2018, after the sudden death of my mother, I found myself questioning who I was and why I was here.
I fell in love with the art of soap making and I have continued the love affair with joy and passion ever since.
Soap making dates back to 2800 BC in ancient Babylon where recipes for soap have been found written on clay tablets. Early soap probably would have been made with animal fats and mixed with rainwater and tree ashes.
Turning a hobby into a successful business
Following redundancy in December 2020, after 25 years in Early Years teaching, I decided now was the time to develop my much-loved hobby and popular product into a successful business - The Vegan Soap Company London was launched.
Having embraced a vegan lifestyle some 34 years ago, I have an insider's view of vegan products. My vision is to create and sell beautiful handcrafted, plant-based, vegan friendly soaps. All my bars are handmade, using a traditional cold process method, made with only the best natural ingredients.
I am fascinated by the natural world and all the plants that heal, nurture and sustain us, and I delight in experimenting with all plants, fruits, and seeds, using re-structured water that I filter and energise with crystals. Each bar takes six weeks to cure and be ready to sell.
Through up-cycling, I give a new lease of life to things people no longer have a need for, namely dictionaries and road maps. I use these to wrap around my soaps, giving them a rather unique, rustic look.
Balancing family life with building a business has had its issues. However, I have been supported and encouraged by my family and friends. During this process I have learnt so much about myself - namely to be disciplined with my time and to focus, so I can get everything done. Planning has become paramount for me.
Getting support
It has been a steep learning curve and I had a lot of help along the way:
I built my own website from scratch, began social media profiles - Instagram and Facebook - for my company. In December 2021, I was named Phoenix Enterprise Awards' Entrepreneur of the Year Award – Highly Commended.
My soaps are being sold in the Garden Museum, Lambeth and I trade regularly at markets in Barnes Pond and Chiswick House.
Getting the support from all the local business groups has provided a firm foundation, guiding me through the labyrinth of commerce and directing me where to obtain information and being proactive. Business will not come to you - you have to take a leap of faith and not blindly but with a firm business plan and a passion for what you do. There is so much support out there for people who are wanting to start their own business.
Longer term plans are to run workshops/demonstrations and retreat weekends/bridal workshops.
I am also the founder of a trust called Saved by Soap. We aim to support and uplift women who have been through the prison system or experienced homelessness or domestic violence. We help to nourish these women, build their confidence and self-esteem, and enhance their skill base through a series of workshops. We also help them to form their own co-operatives should they so wish. My vision is that funding for this will come when the business has grown and can demonstrate a sustainable and profitable growth.