Dr Mide Ojo shares his story of setting up a practice right in the heart of Twickenham.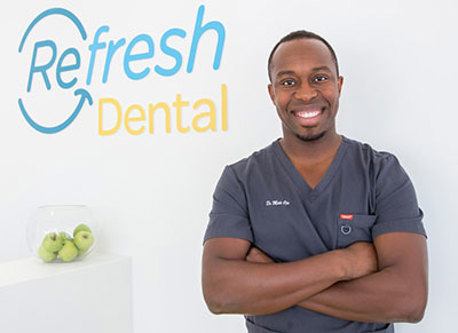 I have been a dentist since 2006. Back then, I worked for a big dental clinic in central London for many years, before venturing on my own. This gave me the training, skills, and the confidence how to deliver the highest quality of care to patients.
Refresh Dental - a fresh approach to dentistry based on a unique experience and first-class customer service in Twickenham - was started by my wife and myself.
We had hoped to buy a dental practice for a few years, however, were unable to find one that was suitable. After living in Twickenham for 9 years, we decided to build our own dream business right in the heart of Twickenham. This involved converting a disused restaurant into a functioning dental practice. This project was not without its challenges, but thankfully after 6 months - we launched in March 2017 - Refresh Dental was able to open. 
One week after opening, the lightbulb moment came. We were obviously concerned that we would not attract enough patients. However, by the end of the first week, we had several local patients who simply spotted us and walked in for appointments. It was such a huge relief and a sign that we had a viable business.
3 of the most challenging aspects of setting up your/a business?
The hours needed to get the business off the ground. I literally worked for 18-20 hours a day for 6-8 months. It was tough on my young family and my poor wife.
Getting the right team in place. It takes a lot of time and effort to find the exact mix of personalities.
Maintaining the standards. As a new business I wanted to offer the same level of service to every patient. Although difficult, this has been our mission statement and thankfully we have achieved this in the main.
The smartest career decision you made…
Employing my practice manager - Shelley Joubert. She has been incredible. She raises the standard and has helped many of our team grow and develop to new levels.
The most difficult lesson you learnt…
The first few months were incredibly stressful. I had to learn to unwind and to make sure I switched off as soon as I got home, so I could spend quality time with my family.
The best career advice you received…
Learn to delegate! This allows you to grow a real business.
If you had the opportunity to do it all again, what would you do differently?
Jump in with two feet straight away! I would open the business for 5 days right from the start, instead of the 3 days a week I did at the beginning.
What type of support have you received since starting your business?
I had some great help initially from Helen Roberts. She was an amazing source and has an amazing energy. Our bank NatWest has also been helpful.
What do you think residents can do to support their local businesses?
I am a huge believer in buying from local independent businesses. It's a two-way relationship because by supporting these businesses the local community is richer and the services are retained and are accessible for the community. 
Top three tips you to aspiring entrepreneurs/launching a business
Dream Big! - You can achieve anything with the right mindset
Build a team around you. - You cannot do it alone. Often, that 'team' is an incredible employee or supportive partner.
Get a mentor. – It is much easier if you have something to follow 
I like being based in the borough of Richmond because…
It is the very best of London with a real mix of people, cultures, and origins with a huge sense of community and spirit. Working here inspires me to be the best I can be to serve the community well.
How can people find you?  
Address: 157 Heath Road, Twickenham TW1 4BH (next to Twickenham Green).
A new practice has also opened at 39 Station Road, Hampton TW12 2AL.
Website:  Refresh Dental
Instagram: @refreshdentalhealth
Facebook: Refresh Dental Health