Payam Pourkarimi, owner of Saks Hair and Beauty Salons in Hampton, shares his story of growing a business and his proudest business achievement.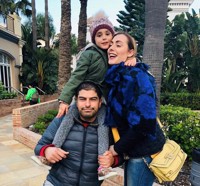 Payam, left, with his family
I am a business owner and manager of Saks Hair and Beauty Salons in Heston and Hampton. I have lived in the borough with my family for six years and we opened our first Saks Hair and Beauty Salon in Heston.
I did not have a business background, however, I had experience as a call centre manager; my mother was a beauty therapist and my partner is a hairdresser, so we combined these experiences and tried our hand at running a beauty salon. At first it was very difficult to manage and grow the business – we did struggle. However, by living in the community, we built relationships and expanded our client base through perseverance and hard work.
Moving to Richmond
We aspired to move to the borough of Richmond and eventually moved to Hampton. At that point, we were approached by David Lloyd to open a Saks branch in one of their gyms in Richmond, which we did and now my wife and I, are running both branches with a team of 14 staff members.
Initially, our business goal was about survival, paying the bills and supporting the family. As political refugees from Iran during the Gulf war, we had nothing when we arrived here; thus, it was also about building a new life for us. Our goal expanded to better our lives and be more comfortable. Then it progressed to live in a new area, start a family and build up the two businesses. Now, we are looking to work hard, train, promote and recruit people into the business and provide a good working environment, so that they can progress and work with us as business partners.
Proudest achievement
The proudest achievement in our business is being able to watch our team grow with us. Our staff members have been with us from a young age and worked with us for the last 15 years. They have grown with us just as we have grown with them; we have seen them through major life milestones and the support within this work environment has helped them prosper and adjust to their own life changes.
The pandemic has really emphasised the importance of the hairdressers to people, especially our clients who miss us as we are an important and consistent part of their self-care routine and daily lives. Our hair and beauty salon is more of a community centre, a place where people come together and discuss their problems, we've been able to spot when people have been feeling vulnerable and helped combat loneliness.
We have been talking to our elderly and isolated clients throughout lockdown; you get to know them and know that the phone call from us is the only call they will get. You realise how important this is to them and that we can do more. In the past we have done haircuts for the homeless, charity work and sponsored runs. As a company, we have raised over £150,000 for the Eve Appeal, a gynaecological research cancer charity and Marie Curie.
Women's health and wellbeing is very important to us as a business, we strive to provide a safe environment for them. Most importantly, we try and be there for people and give them a safe space to talk and share if they need it. With the pandemic and the restrictions, this now means that when a client comes in, they have more time and space with their beauty therapist or hairdresser during their visits.
Top three tips for people starting a business
The top three tips I would give to people starting a business are:
Be efficient 
Shout out about your business 
Be a solution
How can people find you?
Address: Staines Road, Hampton, TW2 5JD
Website: Saks Hair
Facebook: Saks Hair Hampton
Instagram: @saks_uk