Munchy Play founder Sophia Procter shares her story of launching a business during a pandemic and explains how the Richmond community played a part in the company's early growth.
Who launches a business during a global pandemic? Only the brave or the crazy I heard someone say. But if Steve Jobs told us that the "crazy ones" go on to change the world, then it's an elite group I'm proud to be part of!
It was February last year when finally, after three years in product development, I was ready to launch my business, when COVID-19 happened. Braced for the worst, I pressed paused on my start-up and carried on freelancing until the moment was right.
That moment happened to be June 2020, when Munchy Play - the first kids' plate with a built-in track - launched. Since then we have gone on to win awards, feature widely in the press and very excitingly - we have just unveiled a new collection with Thomas & Friends™.
So, how did I go from being a budding founder to featuring in Forbes in less than a year?
How Munchy Play was born
I happened to stumble across the idea for a kids' plate with a track back in 2017, when my (then) toddler was having yet another mealtime meltdown. Getting him to the table, let alone sitting and eating was a daily challenge. Experimenting with ways to invite him over, I grabbed his favourite toy train and track and fashioned it around his plate, and in that moment everything changed.
As fate would have it, I was facing redundancy at the same time, having recently returned from maternity leave. It felt that this was an amazing opportunity presenting itself to me. I could not possibly overlook it.
Thus, I took redundancy and invested every penny of it into steel machinery and intellectual property to protect my idea. From design rights to trademarks, I cut no corners, knowing just how important it is to protect my brand.
From here, I set out to create a tableware range that would excite children about dining and give parents a few minutes of respite! However, from day one, the dream was to partner with Thomas & Friends™, to create a train track plate collection – it's my proudest moment achieving this on the eve of our first-year anniversary.
Breaking the mould
One of the privileges of being a business owner is doing things the right way, not just the way they have always been done.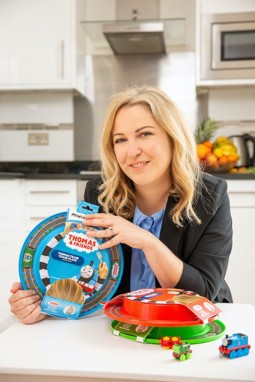 I consulted experts in the field to understand the best materials to use. Although melamine is widely used in kids' tableware, from my research it was a material I did not want to use. So, I opted for BPA-free polypropylene – which unlike melamine can also be recycled at the end of its life. Plus, our packaging is made from cardboard, there is no single-use plastic anywhere.
Underpinned by values important to myself and other parents, I was determined to manufacture the product in Britain. Having a quick route to market and a local producer is so valuable - plus, parents really trust British produce.
Nonetheless, creating a blueprint for a new product and design is the single hardest thing I ever had to do. Every day I face challenges and am often out of my comfort zone. But every day I remind myself that this plate makes a huge difference to families, and so many of them tell me.
And on that note, I have a lot to thank the Richmond community for, because when I produced the prototype, I took it to the street of Twickenham and Richmond and asked mums and dads what they thought of it. This helped to shape Munchy Play kids plates into the product you see today.
Launching in lockdown
Launching a small business is hard, launching in lockdown is even harder. But if the past few months have taught me anything, it is that resilience and tenacity is everything. You just have to keep going.
One of the things I learnt during lockdown is that you also need to be adaptable and agile. Suddenly all our plans for retail evaporated overnight, as shops closed. Instead, I pivoted to an online model, directing traffic and sales to our website, and using Amazon to help with fulfilment. Our product was also lucky enough to be stocked in The People Hive in Twickenham.
With my roots in marketing and PR, I was able to help drive awareness for the product. Knowing that journalists respond to personal stories and knowing how and when to pitch to them is certainly advantageous. As a result, we have been featured everywhere from BBC Breakfast news to Forbes magazine most recently.
In December, we were named one of the 'most promising start-ups' in The Sunday Times, courtesy of Emma Jones MBE - founder of Enterprise Nation. We had come on her radar through the free and helpful Amazon Accelerator Programme, something I highly recommend to other start-ups.
Tips for launching a business
I am often asked what advice I can give to other start-ups, which is touching since I am still learning. But this is what I have figured out:
1. Take local support
When you launch a business of any scale, it is invaluable to have a community of local support. I have found this in the Phoenix Enterprise Programme, a free programme pioneered by Richmond Council, offering free guidance to local business owners. Through it I have met other local business owners and attended local networking events online. I have also been introduced to one of their business consultants, who helps to champion my business and offer guidance and insight, as well as connect me to the wider business community and local network. It has even resulted in podcasts and interviews, so it is well worth signing up for!
2. Be social
Social media alone won't grow your business - good content and genuine relationships on social media will. Over the past year I have made wonderful friendships with our community @munchyplay on Instagram, Twitter and Facebook. It is one of my favourite parts of the job, because it reminds me of why I am doing this in the first place. Find the social media platform that works best for you and focus on that.
3. Adopt a growth mindset
Taking the plunge to work for yourself is a privilege. You can work the hours you set, make decisions without question and be the change you always yearned for. But there is plenty of long hours and sacrifices along the way too. Having mental resilience and a real passion will get you there.
Keep focused and plan your time, so that you are doing the important bits, as much as the stuff you really enjoy. In the ever-wise words of Holly Tucker, (Holly & Co in St Margaret's) 'don't be a busy fool!'
How can people find you?  
Website:  Munchy Play
Facebook: MunchyPlay
Instagram: @munchyplay
Twitter: @munchyplay