Celebrate LGBTQ History Month at Pink Proms 2020
Release Date: 31 January 2020
The annual Pink Proms event returns to Teddington on Saturday 8 February at 7.30pm and promises to be a great night of music and entertainment.
The evening is hosted in Normansfield Theatre by the LGBT Equality & Ally groups for Richmond and Wandsworth councils, with music from the London Gay Symphonic Winds.
Pink Proms celebrates LGBTQ history month and all proceeds raised will go to Opening Doors – a charity that provides information and support services specifically for Lesbian, Gay, Bisexual and Trans (LGBT+) people over the age of 50 in the UK.
Cllr James Chard, Deputy Mayor of Richmond upon Thames, will be in attendance and said:
"This will be a fabulous night out for everyone to enjoy whilst raising money for a very good cause."
"The London Gay Symphonic Winds is a wind band of around 50 woodwind, brass and percussion players who guarantee an eclectic night of fun and quality entertainment!"
Doors will open at 7.30pm. The event is free to attend but online booking is essential. To book please contact 0333 1212 300 or Lesley.alabaf@downs-syndrom.org.uk.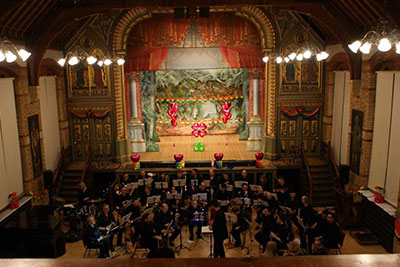 Notes for editors
If you are a journalist and would like further information about this press release, contact Elinor Firth on 020 8487 5159.
Reference: P032/20