Holocaust Memorial Day programme of events
Release Date: 13 January 2020
The borough is running a programme of events throughout January and early February to remember the six million Jews murdered during the Holocaust, alongside the millions of other people killed under Nazi Persecution and in subsequent genocides in Cambodia, Rwanda, Bosnia and Darfur.
Holocaust Memorial Day (HMD) takes place each year on 27 January. HMD 2020 is particularly poignant as it is the 75th anniversary of the liberation of Auschwitz-Birkenau and the borough's programme of events will be a moving tribute to the millions who died.
Events include:
From Wednesday 15 January until Sunday 2 February the Landmark Arts Centre will feature an exhibition entitled '75 Memorials – A Community Remembers'. The artwork, poetry and prose has been created by schools, community groups and individuals from across the borough.
The Orange Tree Youth Theatre group have been exploring the theme of standing together for HMD in their weekly sessions. On Sunday 26 January at 3pm they will perform two pieces of theatre created from scratch by members of the group.
On Monday 27 January at 2pm the Langdon Down Museum is holding a talk and film screening about the Aktion T4 Nazi Euthanasia programme that was responsible for the murder of approximately 275,000 people with learning disabilities. The talk tells the story of Ivy, a 10-year-old victim, followed by a screening of the documentary film Aktion T4 that sees Berge Kanikanian, who has Down's Syndrome, travel to Poland and Germany to visit the sites of these euthanasia centres.
Singers are invited to take part in a special choral workshop focusing on Yiddish and Hebrew music at the Landmark Arts Centre on Sunday 2 February from 10.30am to 4.30pm. Run by world renowned Jewish choir director Polina Shepherd participants will then perform that evening in a concert to mark the 75th anniversary of the liberation of Auschwitz.
See our Holocaust Memorial Day webpage for details on dates, timings and how to book.
Cllr Jo Humphreys, a Jewish ward councillor for Whitton, who is leading on the event, said:
"The programme of events for HMD offer the opportunity for us to come together and honour the experiences of people affected by the Holocaust and genocide. It is a chance for everyone to learn about the past and create a safer future where we challenge prejudice and hatred.
"From schools to libraries, theatre performances to documentary screenings, the borough's HMD activities will not only educate people about the past but will also inspire action against discrimination and persecution in today's world."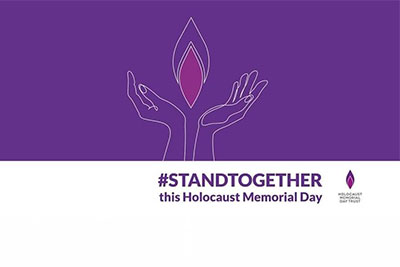 Notes for editors
If you are a journalist and would like further information about this press release, contact Fenna Maynard on 020 8487 5182.
Reference: P014/20